The Future of Air Travel: Flying Drones and Taxis to Disrupt the Mobility and Transportation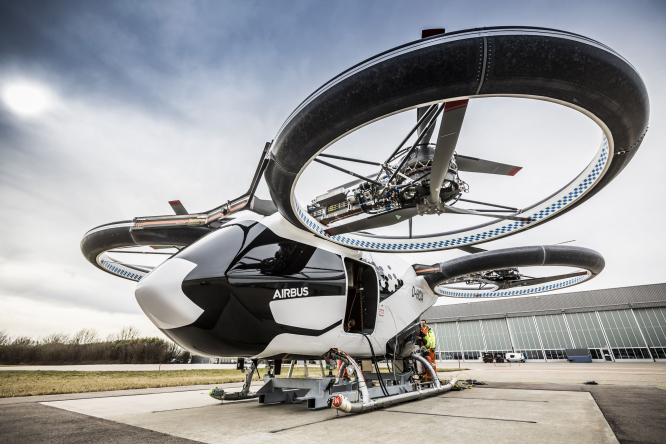 Passenger drones and flying cars are expected to be commercialized in the near future. The product and technology development of traditional flying cars and passenger drones seem to be rapidly growing worldwide. These next-generation air travel concepts have been under development for various decades, and several prototypes already exist, with the majority skilled in vertical takeoff and landing (VTOL). A VTOL vehicle is an aircraft that can take off, float, and vertically land without the need for runways.
For passenger drones and flying cars study, we have excludes any VTOL type of helicopter. While the traditional helicopters have this ability since their inception, most of the helicopters are considered highly energy-efficient and seeming to prevent large-scale operations. Nowadays, several companies are focused on hybrid or electric designs with VTOL capabilities. These types of vehicles, commonly known as flying cars/passenger drones. These are designed to accommodate approximately two to five passengers or the equivalent cargo weight, which will be highly energy-efficient, reduced or zero emissions, and substantially quieter than the traditional helicopters.
Several types of flying drones are categorized under urban mobility vehicles; each type have different characteristics and potential uses:-
Passenger drones: Passenger drones are expected to be hybrid or electric quadcopter that can be utilized to commute people or cargo delivery between established/on-demand origination and destination points. Passenger drones can be remotely piloted, fully autonomous, and manually piloted. When manually driven, the pilots require a certification or license. Passenger drones could cover short to medium range distances (up to 65 miles)
Traditional flying cars: Traditional flying cars would be the vehicles where the pilot/drive can fly/drive the vehicles in car configuration to the airports, reconfigure the vehicles to the airplane mode, and then fly to a destination airport. Traditional flying cars are designed to transport people and fly medium to long distances (50 to 200 miles). Recently, traditional flying cars would need to be operated by a licensed pilot, but it could be made fully autonomous and driverless/pilotless over the time
Revolutionary vehicles: Revolutionary vehicle are estimated to be a combination of traditional flying car and passenger drone, would be fully autonomous vehicles that can start and stop everywhere, with a distance of greater than 200 miles beyond the traditional flying cars and passenger drones. Revolutionary vehicles have advanced VTOL capability and can land and take off from almost anywhere due to the requirement to establish a vertiport/airport. Initially, these would like to be piloted by a licensed pilot, but they could be made fully autonomous over time.
Current Situation
China's Ehang has just tried its self-flying traveler drone, named 184, displayed at the Consumer Electronics Show in 2016. This quadcopter has just been tried in Dubai, where it is relied upon to be operational as right on time as 2018, as per the organization. Be that as it may, Ehang needs to get a flying permit
Aurora Flight Sciences was acquired by Boeing in October 2017, revealed the eVTOL, with the prototype tested at the start of 2017. The company likewise reported an association with Uber, which is working on-request flying vehicles
In April 2017, AeroMobil revealed the final commercial design of Flying Car. The flying car is designed to be both flown and driven, unlike other companies, which are mostly focused on manufacturing of VTOL aircrafts
Airbus' Project Vahana, a self-governing electric helicopter, and CityAirbus, an air taxi, are likewise in the high-level improvement stage. CityAirbus is a plan for an air taxi, with numerous propellers and the presence of a little robot. Clients would have the option to book a seat on CityAirbus as they book a rise in Uber
In November 2017, Volvo's parent company, Geely, acquired a flying car start-up, Terrafugia. Transition, Terrafugia's first flying car is in its testing phase, and the company is in the working phase on a VTOL flying car, which is expected to debut in 2023
Current Development phases of passengers drones and flying cars
With the increasing popularity of uncrewed automated aerial vehicles or drones, and guidelines progressively supporting their commercial use, passengers drones and flying vehicles give off an impression of being drawing nearer to the real world, with aerospace aircraft design technology being developed rapidly. Numerous flying vehicle and passenger drone producers have just passed the conceptualization/plan stage, and a majority part of them are currently in the prototyping and testing stage, with most makers anticipating conveyance by 2020
Current development phases of passenger drones and flying cars
Current Phase

Manufacture/ Vehicle name

Development Start

Concept/Design

Prototyping

Testing

Production

Launch/Delivery

Aeromobil/ Flying Popup

2010

Airbus/Popup

2016

Airbus/Vahana

2016

Aurora (Boeing)/eVTOL

1989

EHANG/184

2014

E-Volvo/Volocopter

2012

Joby Aviation/S2

2009

Lilium/Lilium

2014

Moller/Skycar

1983

PAL-V

2001

Terrafugia/ Transition

2006

VRCO/NeoXCraft

N/A

ZEE.AERO/ZEE

2010
Source: Pukka Analysis
In terms of technology, this industry is in an advanced growth phase. If it clears all the regulatory and safety hurdles, passenger drones are expected to get wings in the near future, while revolutionary vehicles could only be a reality by 2025.
Future Availability of Travel Passenger drone fleet operators
These companies would get an on-request demand for VTOL transportation and dispatch it to the client. It is impossible that the rideshare model of today (driver possessing the vehicle) will extend to elevated travel. Vehicles could be too costly in the near term for individuals to own, pilots may be certified, and the maintenance and repair needed to keep a flight-value rating would be broad. Passenger drone administrators may need to arrange the armada either by purchasing or renting the vehicles, and be directly responsible for the full arrangement of operational necessities, similar as the on-request chief stream market works today.
While aviation companies have been the most dynamic and active, various players could also try to get the disruptive opportunities:-
Ridesharing companies: There's potential for new players with these vehicles to acquire traction in the elevated travel space if they are first to showcase with an affirmed vehicle arrangement. Uber has declared its aim to dispatch a VTOL air taxi network as a feature of its flying vehicle project, Uber Elevate
Rental car companies: Rental car companies could boost their capabilities in customer relationship management, fleet operations, payments, and optimization to provide shared VTOL fleets
Aircraft leasing companies: Aircraft leasing companies own a significant portion of today's large passenger aircraft and could play the same role in leasing and financing smaller flying cars and passenger drones to shared mobility fleet operators, with payments based on either flat rates or usage
Other categories in the broader mobility ecosystem would likewise have to account for passenger drones. Mobility managers that provide ticketing, payments, and seamless trip planning, would have to join one more mode into their buyer interface. Digital infrastructure would be vital to ensuring secure, safe, and reliable communications between passenger aircraft fleets. Furthermore, we have just discussed the need to create and keep up the essential actual framework.