Our FTE Business Model is quite impressive which offer multiple options to clients to leverage our service 24/7, which suits their perspectives. Pukka Partners is committed to provide excellence throughout clients' growth journey and assist them during their ad-hoc research request to custom research projects.
Our Offerings Include:
Dedicated Analyst / SME for specific account – A team of analysts and SME would be your point of contact and would be assisting you throughout the project life cycle for a long time (i.e. 3 to 6 months, 6 to 12 months, and so on)
Fixed Hour Support – Client can purchase analyst fixed hours, and can utilize it for one or more projects as per their needs
Project Based Support – Dedicated analyst / team would be supporting client on a project basis
Flexible Pricing Structure – Enables clients to pay on a subscription basis or can pay for the actual work done
Nature of Work – It covers ad-hoc / on demand research, market & competitive intelligence projects, strategy consulting projects, data analysis, BI reporting, and customized studies
Leverage Core Competencies – You get access to industry experienced resources, which is pocket friendly too in this business model. You don't have to think about hiring and retaining the talent, rather focus on getting the work done
FTE Work Flow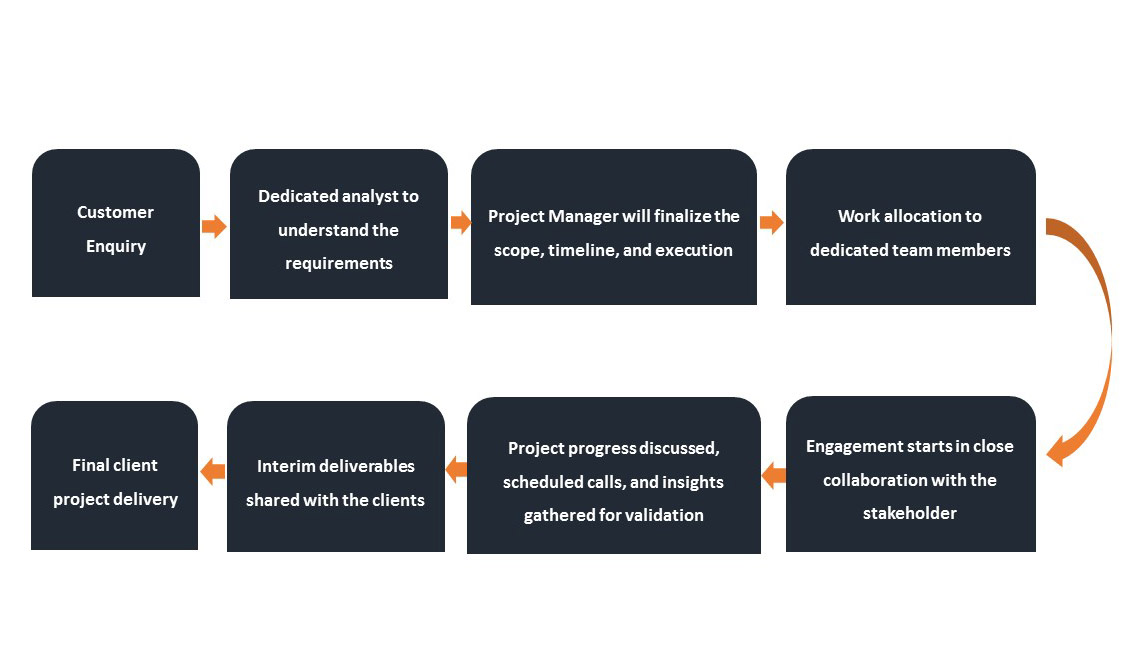 Highlights of Our Cost Effective FTE Model (annual saving of up to USD 30,000)
We value long term business relationship and we always ensure to provide our clients the cost effective solutions. Here is the annual saving breakdown for our long term clients who opt for FTE model.
Free access to monthly / quarterly sector update – USD 500 / Month or USD 1,500 / Quarter (USD 6,000 annual saving)
Free access to quarterly business review (QBR) strategic deck of top three competitors – USD 3,000 / Quarter (USD 12,000 annual saving)
Free access to quarterly earnings release dashboard of top 5 competitors – USD 2,000 / Quarter (USD 8,000 annual saving)
Free access to industry competitive benchmark dashboard – USD 2,000 / Half-Yearly (USD 4,000 annual saving)