Wireless Health Heading Towards Connectivity Fueled Decade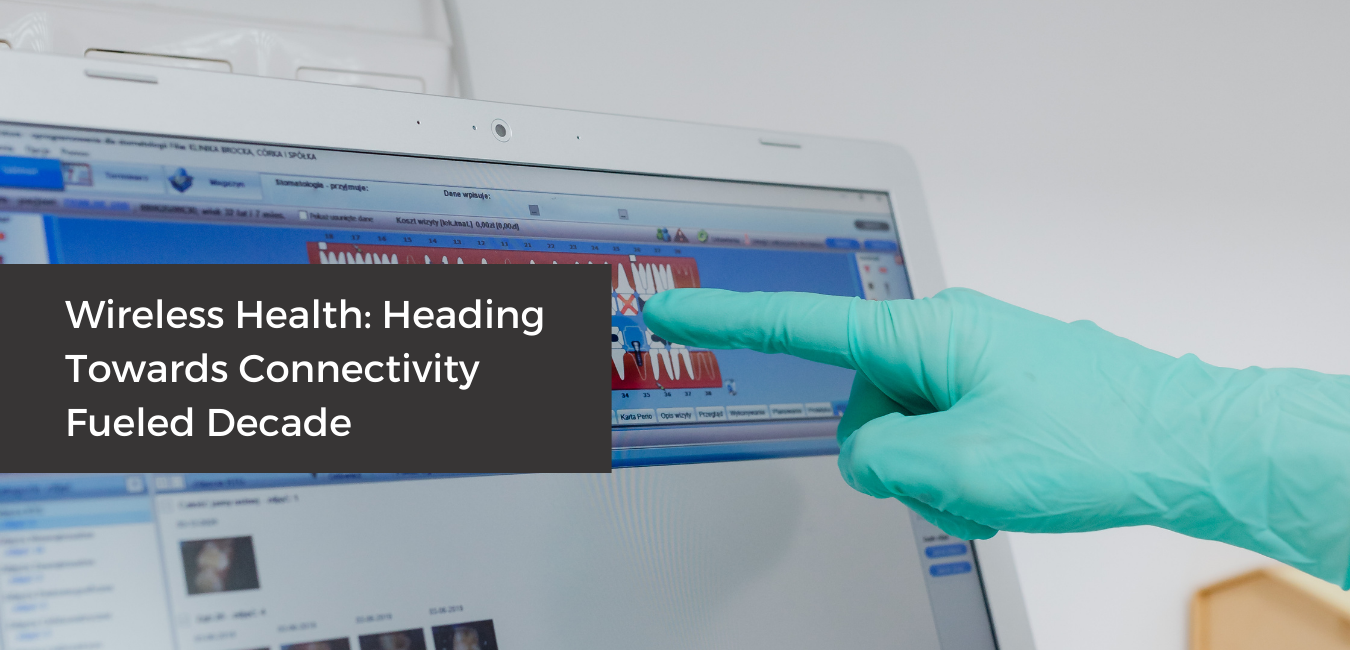 Remember the times when you had to wait for even hours to get an appointment with your doctor? The times when you had to book an appointment over a phone call? Technology isn't the same anymore. The modern-day healthcare industry is changing for the better.
Telemedicine, electronic health records, big data, and AI have completely revolutionized healthcare for both patients and the provider. The aim is to make healthcare more:
Efficient

Effective

Affordable
Moreover, rapid changes in the communication and electronics industry it is propelling the healthcare industry to evolve. The idea is to make patient information accessible to healthcare providers.
This wireless connectivity is thought to provide considerable benefits to the healthcare industry. How? Well! Global leaders believe that it can help increase savings by improving productivity and outcomes. In fact, as per a study, this connected wireless system can easily add around $400 billion to the global GDP by 2030.
To give you an example, with wireless services increasingly becoming an inherent part of our lives, there is a rapid rise in the real-time monitoring and guidance systems for patients. Further, low-cost sensors and wireless systems enable providers to create a vigilant environment for people at home, at work, and in point-of-care.
All this is leading to the innovation, often referred to as "Wireless Health."
But that's not the point here!
The point is, why is there a need for the providers to make a move from conventional practices towards connected care?
Challenges faced by the providers
Increasing need for healthcare and patient expectation for better care.

Limited budgets and rising costs of medical treatments.

Reduced availability of beds or care facilities.

Increasing costs of delivering comorbid care to an aging population.
This led to an increase in the demand for wireless health in today's times. To understand more about this space, here are some use cases:
Potential of Advanced Connectivity in Healthcare
There are two types of connected healthcare- applications that help with patient monitoring and provide feedback and information to patients.
While it's still early to talk about the long-term benefits of wireless health systems, here are some use cases that will help you understand the benefits of connectivity in healthcare.
Remote Patient Monitoring
With the growth of wearable sensors, it is pretty easy to get information about glucose levels, oxygen saturation, and glucose levels. This approach will allow providers to take care of their patients and monitor their progress quickly right from the comfort of their homes.
This is helping to reduce the number of hospital days and allow patients dealing with chronic conditions to keep their symptoms under control. And that too without any need to see the professional in person. In fact, many estimate that such systems can improve patient satisfaction while delivering around $120 billion in annual value globally.
AI-enabled Decision Support
Advanced connectivity allows providers to use AI to collect various data sets like patient histories, evidence-based protocols, and other patient information for better patient monitoring. Thus, it will help doctors and professionals provide faster treatment and that too for patients living in distant locations.
For example, doctors in Birmingham tested a system using virtual reality headsets to take ultrasound scans and send the information to the doctors for faster diagnosis. This support can quickly decrease latency networks and unlock around $70 billion in efficiencies, primarily by reducing medical errors.
Connectivity-enabled Central Dashboard
Things will be straightforward for everyone if one could get information related to a patient's condition without making them come to the hospital. Thankfully sensor tags can help doctors to do just that. These patient bracelets or connected devices can quickly transform patient care.
How? This system allows managing patient flows much more quickly. And guess what? You can easily free the load on the oversaturated hospital by optimizing staff scheduling and freeing up some beds. In fact, using such a system can deliver around $70 billion annually by generating efficiencies.
If you are still wondering how it is helpful in the long run, keep reading to find out more about it.
Improves the speed and accuracy of diagnosis.

Supports constant patient monitoring, enabling providers to be proactive and take care of the needs, especially in emergencies.

It helps patients take care of their medical needs and follow medical regimes without a miss.

Encourage patients to self-manage their conditions on an everyday basis. Thus, it reduces medical complications.

Allows earlier hospital discharges while maintaining patient health through remote monitoring.
While these are pretty good benefits, compelling providers or founders to use technology to transform their age-old antics can be rather tricky. Plus, one will have to change the processes, which is quite difficult for primary care providers and specialists.
Also, technological, structural, economic, and regulatory changes make it even more complicated to change the system entirely. Also, it is still in its initial stages, and no one knows until people and providers start accepting the need for new-age technologies for better patient outcomes.
Final Takeaways- Wireless Health Propelling Connected Health For Better Outcomes
Imagine a world where your medicine cabinet notices your precipitation refills and calls it in. or a sensor under your skin detects the fluid build up in your organ and alerts the doctor. Or a bathroom scale asks you to punch in your weight loss goals and gives your progress updates. In short, your health checkups aren't annual anymore.
Does it sound dreamy? Well! It's still a fantasy, but the demand for value care prompts many healthcare providers to find new and more effective ways to improve care delivery. This includes making services accessible and less expensive by enabling an "anywhere and anytime" policy.
The idea is to improve the communication between providers and patients/customers. Not only this, but they also want to use this system to engage consumers and support preventive care and treatment beyond traditional settings.
In short, wireless health is technology-enabled care that allows remote communication, diagnosis, treatment, and monitoring. The approach is to help patients get quality care when and where they need it.