Wellness Tech: It Will Continue to Dominate The Healthcare Markets in 2022!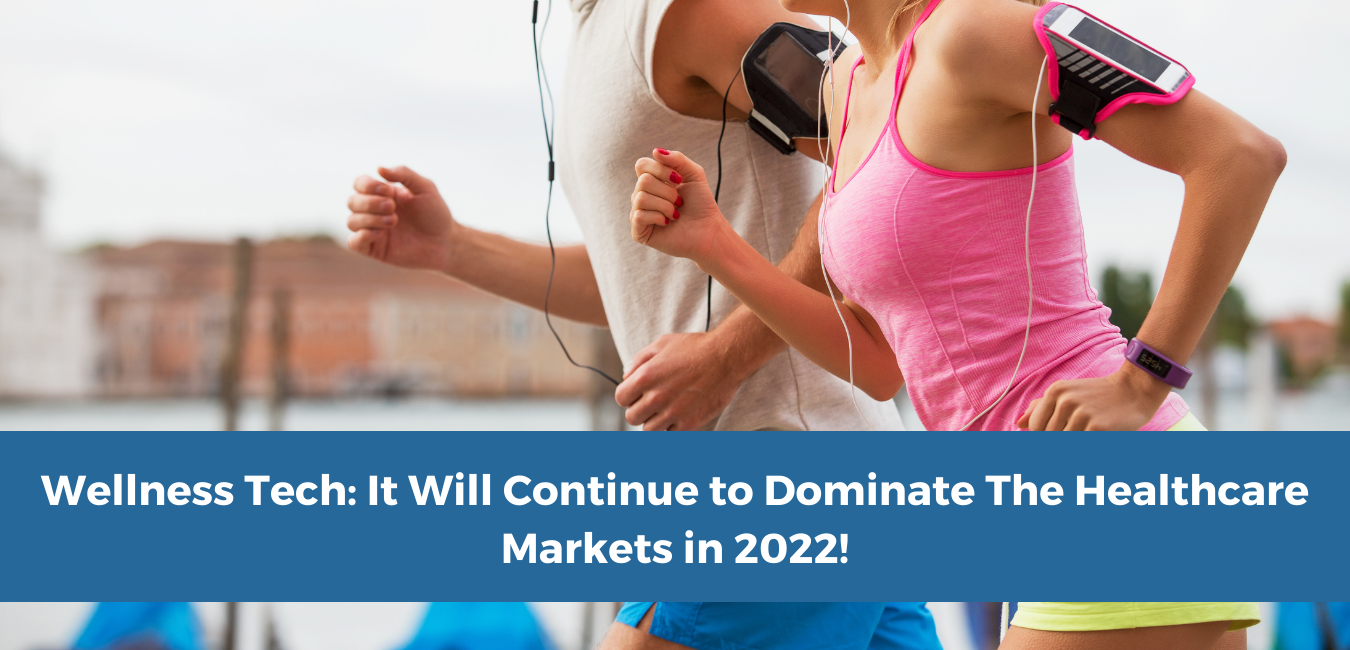 Finding ways to streamline our health and wellness goals has been a part of everyone's schedule in the past two years. The pandemic reminded us to give health a priority. No longer staying up 'til 3 am or drinking eight cups of coffee a day will work for you. Whether you are in your early 20s, 30s, 40s, or so on, you need to start acting, or else your body will end up saying, "Hey! We can't act anymore."
The health and wellness industry understood the gap and started inventing to reach the masses. Digital health investment saw a blockbuster rise in the year 2021. The first nine months alone brought around $21.3 billion for digital health startups. In fact, according to the research analysis, the global health and wellness market will be close to $6 trillion BY 2025.
While the growth of wellness technology was primarily because of the limited ability to get to the gym, many global experts expect that it will continue to grow even in the "new normal." Here's what you can expect in 2022. Let's begin!
Wellness Technology Trends to Watch Out For
Affordable smart fitness will be a talking point
With a decline in late pandemic sales, the smart fitness companies are finally taking notice. The group fitness and gym workouts will be back. And many believe that digital fitness companies will have to compete with real-life gyms again. You can expect innovation in the home gym industry. Here's what to watch in 2022. Tempo Studio will lower its rates and offer AI feedback more features to fit health in almost any space. The Amazon Halo View will have handy features and allow you to have a membership cost-effectively.
Mindfulness technology will grow
With a disruption in the way we lead life, as school closures work from home, general anxiety is becoming a norm. This has raised my interest in relaxation, meditation, and mindfulness. Thus, you can expect a rise in technology-based solutions. In fact, more than three million people already use meditation apps daily. Platforms like Fitbit are pretty functional in improving stress and other stress-related conditions. In fact, Apple is working on specific features that will help detect depression and anxiety using their health platforms. Wearable technology will see a rise in the year 2022 as well.
Employee wellness technology will become a norm
Technology solutions used to monitor overall wellness will soon enter the workplace. Many employers are already giving enough importance to fitness and wellness amongst the staff. You can expect technology solutions deployed by many employers this year. Many will want to gamify the health activities to increase gym attendance when taking desk breaks. For instance, platforms like gym pass that combine fitness apps with gym memberships could be quite an innovative way to push the employees to take up the health route. The workplace wellbeing programs integrated with wellness technology will be a norm.
AI-powered personal trainer applications
Who doesn't like personal attention? However, with so many programs running right now, you don't get personalized services when it comes to health and wellness. But that's changing with artificial intelligence excels. People are now opting for AI-based apps where cameras track their movements while exercising, giving them real-time data.
One could also see a rise in AR to get visual overlays on top to give you recordings of your workout. Thus, helping the customers to improve their stances. This has enormous potential to develop personalized workout routines and rule the 2022 health and wellness market. For instance, Weight Watchers, also called WW, offers unique ML-powered wellness programs after considering users' diet, physical activity, and sleep.
Better and smarter wearables
Wearable technology was even popular before the pandemic. However, the last two years gave it quite a push. After all, its ability to provide data around health and performance makes it quite exclusive for everyone. Smart fitness tech will come with many devices like rings and earbuds, which don't like wearing watches. One can expect a lot of innovations in this niche in terms of technology used, UX, and UI to reach the target audience.
Smarter home fitness technology
With so many variants already pushing the world to think smartly, public gyms won't be an option for all. This is why home-workouts will see a massive rise, at least for the first half of 2022. This is why home fitness technology will see a lot of changes. Gamifying the exercise bikes at home became one of the selling points of so many brands—a few companies brought live-streaming fitness classes. The technology is helping increase connectivity and accessibility to a variety of programs.
Wellness startups that are making a mark in this niche
Calibrate:

It is a digital metabolic health brand that provides virtual programs for weight loss. It combines FDA-approved metabolic medication with a holistic curriculum and 1:1 virtual coaching sessions for better behavior change.
Frankie Health:

It is a support system for employees where they can receive mental healthcare support without a few clicks. It provides them with proven exercises to build mental resilience.
Whoop:

It is a next-gen wearable providing customers 24/7 access to health monitoring applications like fitness, sleep, recovery, strain, and more. Initially, everyone thought it was helpful for professional athletes. But gradually, it made its name in consumer wellness.
Final Thoughts: Wellness tech is here to say
2022 is hopeful in many ways. People are finally giving health and wellness some importance. This is how so many technological innovations are going in this sector. That's how wellness technology gives everyone a chance to give their health a chance without having to visit any place. Just plugin, and you are good to go. Further, its role in employee wellness will see a significant change.
Using this, one can easily monitor health goals and milestones. So, are you using wellness technology? If not, what's stopping you? Are you in the business of providing such technologies? Then, you must offer wellness programs or software systems that will help future-proof your technology.