Wearable Technology is here to stay: Decoding its endless possibilities in Healthcare!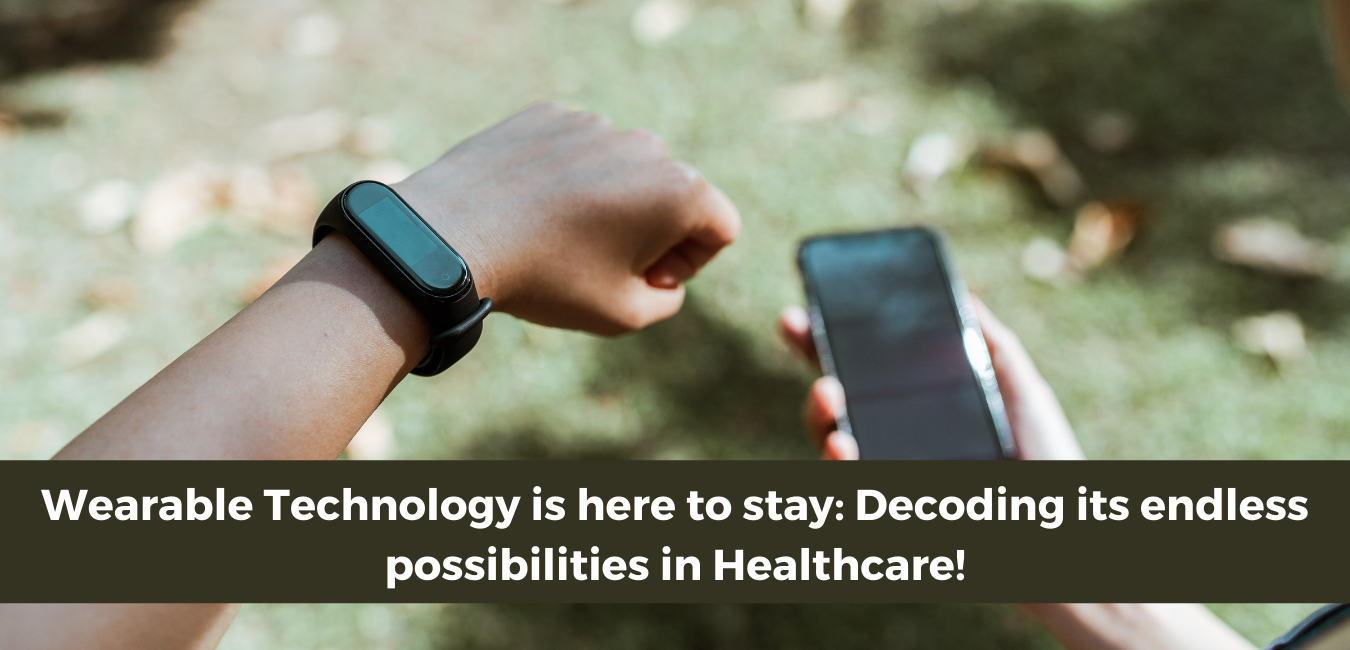 The rising share of the aging population and skyrocketing benefits of wearable devices are contributing to the growth of the wearable technology market. In fact, as per a survey, the global leaders are valued at around $116 billion by the end of 2021. Many anticipate that it will reach around USD 265 billion by 2026.
And with the advent of factors like IoT, AR, and machine to machine (M2M), this technology is a growing trend as a part of smart living amongst end-users. As of now, Asia Pacific is leading the regions when it comes to the wearable technology market.
Their importance isn't just for recording the daily fitness scores. Instead, they are an innovative solution that could help manage a variety of healthcare problems. But the industry is using this technology as a part of preventive healthcare management or as a part of patient/ disease management.
Here's how it helps healthcare providers be at the top of their game. So, let's get started!
Wearable Technology: Its Role in Prevention of Disease and Health Maintenance
Prevention/ Disease Maintenance
Providing care to an aging population is becoming a challenge now. There will be millions of people living in their 60s or more with better access to healthcare. The global number of older adults will rise to around 2 billion by 2050. That's huge, right?
The aging population is always at risk for chronic conditions, falls, and disabilities. So, providing preventive interventions is increasingly becoming important now. And a wearable device can help address this issue. For instance, many studies confirm that using this technology could help them collect or analyze gait data to prevent falls.
Physical Activity Monitoring
Everyone knows the fact that "sedentary behavior can cause adverse health outcomes. For instance, Frank, Jacobs, and McLoone designed a wearable technology integrated system to monitor student activities.
The reminders were sent after every 20 minutes of sitting. Besides this, it could also be beneficial in improving communication. For instance, wearable technology helped improve mother-child communication by providing actionable insights.
Mental Health Status Monitoring
Developing wearable devices and algorithms to monitor mental health status is relatively new. These devices equipped with sensors can help doctors detect physiological statuses, such as heartbeat, blood pressure, body temperature, and other signs.
One could work around adding stress detection along with other signs. For instance, a few scientists proposed a framework to collect data that could help reduce stress. They found that by combining audio and heart rate signals, the system could provide accurate results about stress.
Managing Athletic Training or Matches
Wearable devices help athletes or coaches to manage training or performances. For instance, a group of scientists used a commercially available wearable device to monitor the jumpload of volleyball players.
Plus, it was also helpful in monitoring functional movements like workloads, heart rate, etc. In other words, it was useful in maximizing performance and minimizing injuries.
Weight Monitoring and Control
Since you already know that wearable technology is quite helpful in accessing activity intensity and calories expended. This is one of the primary reasons that customers are inclining towards this technology. So, it is quite beneficial in managing weight-related parameters quite efficiently.
Patient Management
This technology could help hospitals improve their patient management efficiency. It could help with the early detection of health imbalances. For instance, point-of-care diagnostic devices like garments integrated with wearable solutions such as portable sensors could help improve patient care outcomes.
For instance, it could help with patient-health state parameters like heart rate, breathing rate, temperature, blood oxygen, activity, posture, and other environmental factors that could help healthcare providers devise better and targeted care strategies.
Real-world examples
Ava (San Francisco & Zurich)
It is a night-only wearable device that helps women track their cycles to learn about fertility, pregnancy, and overall health. It logs their sleep, stress levels, resting heart rate to keep track of their periods, ovulation, and simple symptoms.
It is pretty beneficial for strength training. It ensures that the user performs the exercises accurately and provides feedback.
KardiaMobile (California)
It has a role to play in screening, diagnosis, and treatment. It is an ECG that attaches to the back of the smartphone and tracks heart activity and transmits the activity to the app using a chest or finger sensors.
It is a fitness and health wearable. It monitors activities like sleep and heart rate. The user puts on their finger and tracks the signs for better adjustment of goals.
In addition to so many other uses, it has a variety of health tracking features to notify about irregular rhythms and heart rates.
It does more than just tracking steps. It is a health coaching platform that offers solutions for a variety of end-users.
My Skin Track UV (New York)
L'Oreal made technology which pairs with a mobile app to track a user's exposure to UV, pollen, humidity, and pollution.
Final Takeaways: Innovative Solution to Improve Healthcare Outcomes
Wearable technology is growing, and with the ease of use, it will skyrocket even more. It is one of the easiest ways to monitor human physical activity and psychological parameters. The data is immense and can help healthcare providers strategize and devise plans that will suit the end-user in the best way possible.
The fact that one can attach wearable devices to shoes, eyeglasses, earrings, clothing, gloves, watches, and even in chairs and mattresses could help high-risk patients monitor their signs and symptoms relatively quickly.
It won't be wrong to say that it is an innovative solution that could help providers leverage massive amounts of data which could be helpful in disease prevention, monitoring weight, physical activity, and so much more. It won't be wrong to say that it directly impacts the decision-making process in a clinical setting. It could, in fact, improve the quality of care, especially for patients who want to rehabilitate outside clinics or hospitals.
And eventually, it could reduce the cost of healthcare services, which will help millions of patients. Isn't that amazing?