VR and AR will rule the Live Events Space to directly engage with fans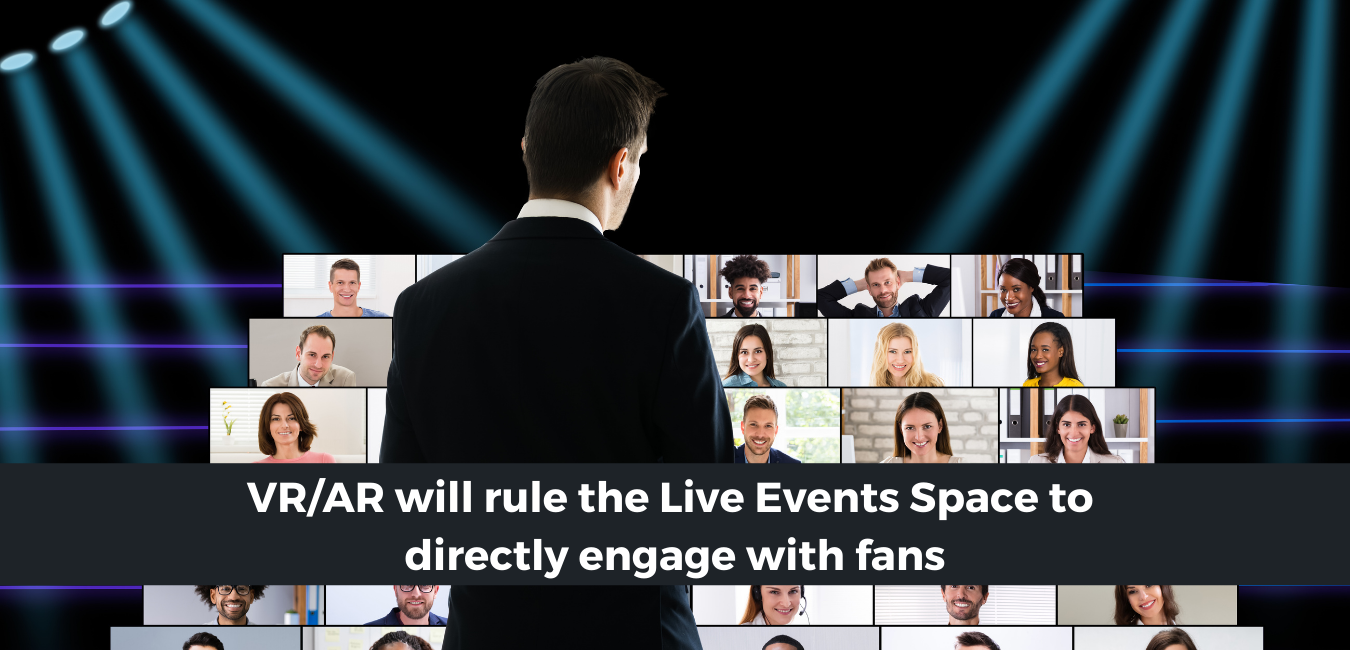 The growth of AR/VR is skyrocketing. It will grow around $10 billion with an annual growth rate (CAGR) of 77% by 2023, according to research. Another study found its applications in live events, video entertainment, and video games. In fact, it will soon become an integral part of every industry and niche.
Since it mainly takes three different forms, you will only require a mobile device, at the best. Sometimes it might feel funny that you lived without any technology for so many years. But the pandemic changed the landscape so suddenly that distance means nothing anymore. If you want to talk to someone or visit an event, it is possible within the limitations of your home or your city.
Back in 2018, High Fidelity hosted the world's first ever virtual festival. Here you could experience the future of vision without having to visit the place.
Though TV broadcasters might argue, this option is definitely a good one since it allows you to enjoy a large scale event without any downsides. For instance, modern day customers can avoid long lines, overpriced eateries, and bad weather with a feel as if you are visiting the event in reality. It won't be wrong to say that AR/VR is becoming an indispensable tool when it comes to live events, conferences, and so much more.
But how is it beneficial? Let's find out more about it!
Virtual experiences and events: How will it transform its future?
The futuristic technologies like VR/AR have swifty become an important aspect of event management. The industry is now reinventing itself to offer new experiences to its customers without losing the originality to events. Virtual experiences are definitely adding a unique touch to the events that will now last longer in the memory.
And since the clients/ attendees can immerse themselves in the event. It intensifies live events experience for attendees with 360 degree videos. Since such solutions are cheaper, the number of attendees will increase across the world. And since you can reach a broader audience in real-time, you can make it bigger and easier to access.
Here's how it can benefit event management in the coming years.
Benefits of VR/AR in event management
Technologies are playing a significant role in planning events. It is helping create a real-life like experience using facial recognition, and garnering attention, and more. It is helping everyone involved in event management to stand out using their marketing efforts.
Countless data reports confirm that events and streaming shows will become a significant portion of event planning revenue by 2025. Here's how it will help:
Better engagement opportunity:
This will improve networking amongst attendees. This technology can also encourage participant interactions using AR video token or business cards. It can further help planners to ease down since it helps reduce their to-dos. Furthermore, technologies like Google Glasses are getting so much traction lately. It allows the attendees to get access to details regarding the event. For instance, David Haas uses this technology to get on the virtual show floor during Hangout meetings.
Since you can club this technology to pretty much any technology, you can add gamification to certain monotonous tasks. For instance, you can use tech-enabled leaderboards, and other interaction opportunities. One can also use methods like virtual talent hunts or set up any competition stations to improve the overall experience.
You must be aware of the in-store navigation systems. You can integrate AR technology in the physical events and help everyone coming to even navigate through the venue. It is quite helpful in the same way for conferences or summits. So, no more going lost when going to events in the pavilions or panel sprawls anymore.
Deliver better presentations:
AR-based apps allow us to present ideas and presentations in a better way. The presenter can use different data sets and concept screening. You can use the technology to introduce a 3D digital prototype of your project.
Better interactions with other participants:
Since all you need is an access to a live account, this is a much easier method to attend sessions while interacting with other attendees. It's like the experience you have at any physical event or session. You can even add trade fairs and experience exciting walking-ins. Not only that, you can also use the same technology to showcase a variety of products and how it is beneficial for your customers. For example, a Taiwanese firm, HTC Corp., used the same technology to conduct a conference. There were over 2000 participants from over 50 countries.
Helpful in training staff:
You can use the same apps to organize training sessions. For instance, you can use 3D representation of the event space and help with impactful event decisions. For example, Mercedes Benz uses the same method to train their workers at every level. They create 3D videos. Further, one can use the same option to create campaigns that matter at events.
Improving attendees base at events:
These apps can help guest interactions and bring traffic to events by adding educative pop-ups and customisable games. These options will boost sales and will also speed up different event related processes.
Real-life example:
The developer who made Riot Games debuted at the game's championship in South Korea. This virtual band used AR technology and gave a spectacular performance. This video alone garnered more than 10 million views.
Another company, Coachella, released an AR/VR application for festival goers. They transformed it into a miniature festival site.
It won't be wrong to say that immersive technologies have a unique ability to drive a deeper connection. In fact, it creates memorable experiences.
Final Thoughts: AR/VR Bringing a significant change in event industry
Event planning and management is quite tiresome. And with so much human skepticism against the gatherings, such technologies can connect with the audience and give them an authentic and real feel. It won't be wrong to say that the apps will soon use AR/VR technology to grow their customer base in the times to come.