Virtual Reality is Transforming Healthcare Industry For The Better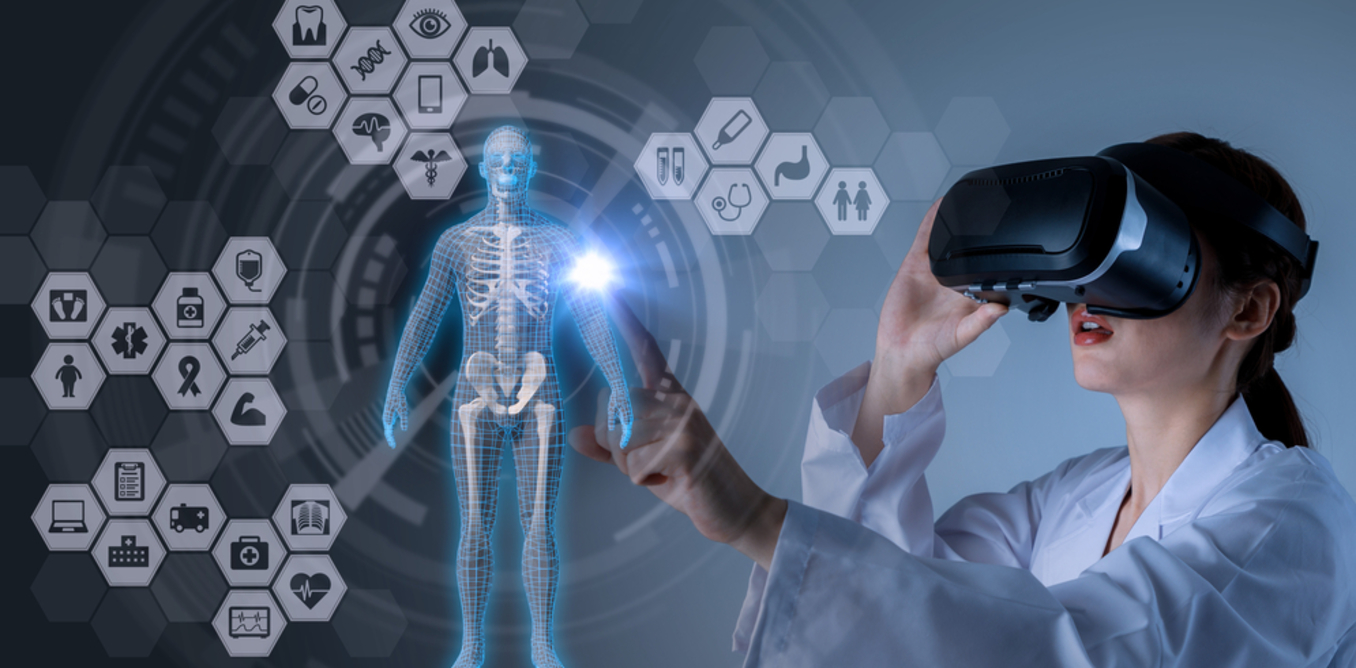 Whenever you hear the word "virtual reality," the first reaction is we would be talking about gaming or the fashion/ retail sector. Honestly, you are only half right. Virtual reality solutions have an impactful role in the healthcare sector as well. Quite evidently, it's slowly and steadily becoming an indispensable tool to create tailored service offerings for healthcare professionals and patients alike.
In the past year alone, the global healthcare VR market skyrocketed to around $336 million, and it's expected to reach approximately $2.2 billion by 2024 at an average CAGR of 30%. If you go by the report by a leading company, more than 80% of healthcare professionals agree that VR creates a more convenient way of accessing and learning information for various tasks.
Further, more than 60% of patients are ready to welcome virtual reality healthcare services to replace traditional healthcare practices. Many believe that the following are some of the critical drivers of the growing VR adoption in healthcare:
The rising demand for quality healthcare services.

The need to reduce healthcare costs.

The rise in the demand for connected devices in the healthcare industry.
Are you still wondering how virtual reality can transform the healthcare industry for the better? This article will discuss the potential applications of virtual reality in healthcare.
Virtual Reality in Healthcare Industry- Unleashing The Diverse Applications
VR is on the upswing. The recent advancement and government initiatives propel technology adoption in the healthcare sector. Many surveys confirm that it will drive around $40 billion in revenue by 2026. Here is a snapshot of how companies are helping healthcare professionals and patients using virtual reality applications and services.
Let's begin!
VR improves access to medical education and training.
Virtual reality helps medical students or starting healthcare professionals. VR can inspect the 3D models in much detail, which wasn't possible with physical models. They can communicate with AI-controlled virtual patients and learn communication skills in different situations and scenarios.
In other words, doctors can work on virtual learning sessions held in groups or individually. This is quite helpful in anatomy learning and medical social skills training.
Besides this, the same technology could be helpful to train medical school graduates and health professionals to acquire hands-on skills. This is how it works. The professionals use a VR app's simulated situation in which a user becomes a part of the training situation. And they have complete steps and take actions to understand the intricacies of any medical procedure or equipment handling.
Many professionals use it for medical procedures, emergency cases simulation, and medical equipment use training procedures.
VR allows surgeons to perform mock surgeries.
VR helps professionals with their practical skills. It allows surgeons to perform a variety of mock surgeries in a virtual space. Hence, it eliminates the risk of skill deficiency. They can become skilled professionals without using any expensive one-time mannequins for training. For instance, a surgeon performs surgery in a virtual space using haptic controllers. It helps them with their medical procedure and guides them to take the necessary steps.
Many professionals believe that it could be helpful in surgical training and pre-surgery planning of complicated surgeries so that everyone is on the same page.
But it's not only helping medical professionals. It is quite an effective tool for patient care and other measures. Are you wondering what it could be? Let's find out more!
VR is quite helpful for patients with painful disorders.
Virtual reality is quite an effective tool for pain management. Many apps using this technology help lower the intensity of pain, thus reducing its discomfort. This is quite helpful in minimizing the use of potentially harmful painkillers. Therefore, it could be beneficial in reducing overall healthcare costs.
Let's not forget that chronic pain is a severe health issue worldwide. And this technology could help patients manage their chronic pain. Scientists are looking for VR to train your attention to focus on one experiences beyond the pain.
This is how it works. The patient gets a VR simulation. This makes patients become a part of an interactive gamified experience. They are transferred into a realistic environment where they find relaxing moments using audio stimulation. Thus, helping them to calm their senses and mind. Many believe that it could be effective for chronic, acute pain and medical procedure pain.
VR is helpful for rehabilitation exercises.
It won't be wrong to say that VR is quite helpful in motivating patients to achieve their goals through gamified experience. Software's built-in AI can help patients with guidance and inspiration support. Thus, replacing the need for a real therapist. Hence, they can opt for a flexible and relatively cheaper individual rehabilitation.
In this, the patients are guided to their personal training program stored in the software database using a VR app. It could be helpful with physical therapy, cognitive rehabilitation.
VR could be instrumental in teaching communication skills for autistic patients
It could be helpful to teach social and communication skills in autism patients. A VR app could include games or activities that will allow these patients to explore social connections, situational training, and various calming techniques. This is because a traditional in-office setup has many limitations and a constrained environment. It could be pretty beneficial for the kids who easily get overwhelmed with the complexities of noises or any virtual distractions.
VR could be helpful as an empathy tool for doctors
Many doctors cannot show empathy to their patients dealing with diseases like dementia or Parkinson's. Using VR simulations, a doctor can understand what the patient is going through. This is how they can better guide them and create the most impactful healthcare regime for better results. It will allow them to be more engaged with patients and help them recover faster than ever.
Final Takeaways: VR is Just Getting Started
VR is quite a helpful tool to educate patients and professionals. It could be beneficial in preventing disease or disease management as well. In fact, in 2017, Cedars-Sinai collaborated with a church in LA to launch a preventive healthcare program. Also, it could have a role to play in relieving stress, combating anxiety, and achieving a more peaceful mental state. Clearly, it is an advanced technology. With the release of powerful headsets and innovative software, one can expect that it will soon become a norm in the healthcare industry.