Virtual Production is opening the doors for cutting-edge entertainment. How?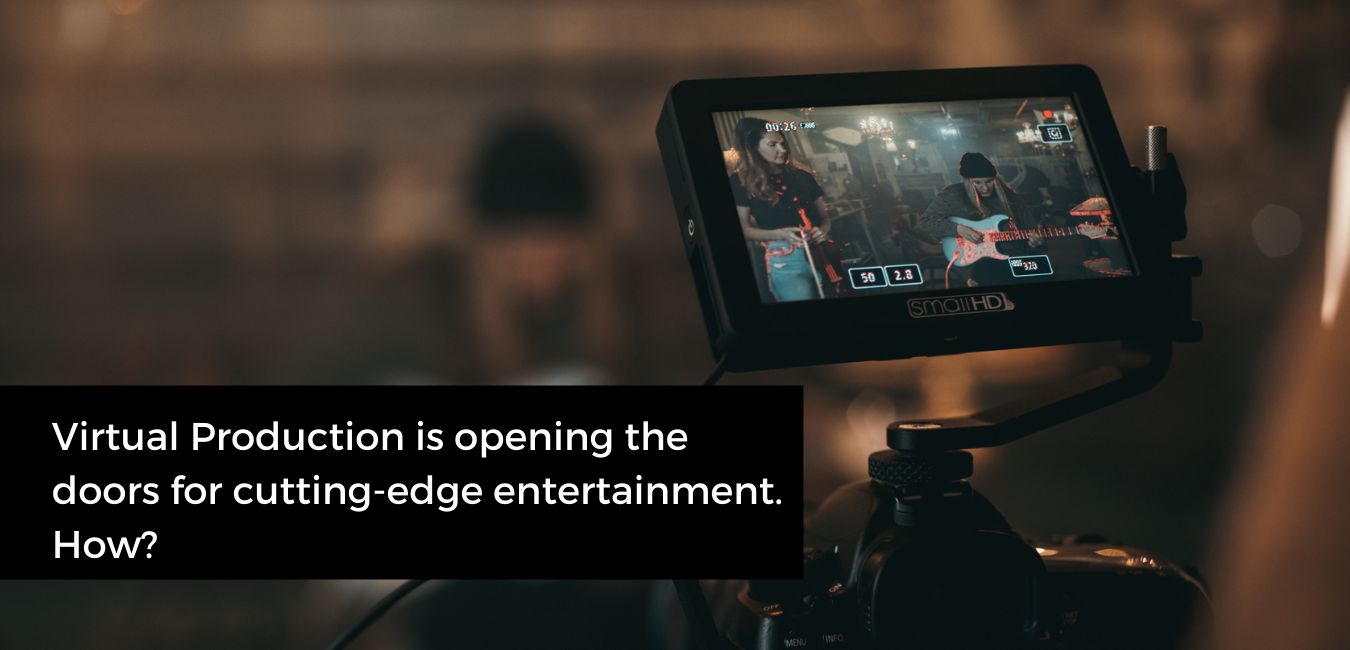 Virtual production is the use of visual effects or innovative technologies throughout the content creation lifecycle. While many might think it's a new process, it isn't the case. The trends are accelerating because of the increased interest and adoption of this process by Hollywood.
Who can forget Jackson's The Lord of Rings: The Fellowship of the Ring (2001) or James Cameron's Avatar (2009)? They used this innovative technology to create camera movies and bioluminescent species and exotic environments, respectively. Without a doubt, as technology continues to innovate, other fields of entertainment are also leveraging this technology in live entertainment, fashion, and news reporting now!
And with the pandemic completely shutting down production houses for obvious reasons, virtual production helped clearly with the "the show must go on" philosophy. It won't be wrong to say that the pandemic is speeding up virtual production and is opening the doors for cutting-edge entertainment.
In fact, several industries are integrating new innovative tools to give their audience a fantastic delivery of live entertainment. But how is it helpful? Let's find out below!
Virtual Production Transforming Production Workflows
If you think about conventional filmmaking, it has strict processes divided into:
Development

Pre-production

Production

Post-production
However, this workflow had little fluidity. One had to work according to the assembly line process to complete a project. It was often a project with a level of uncertainty and inconsistency. Many believe that this method is usually focused on finding a starting point rather than refining a vision. This is quite a setback for movies since there are clear inconsistencies between physical production and post-production when using these modern effects.
Contrary to that, cinematographers can use virtual production tools right from the start to quickly gauge color and lighting with higher accuracy. Introducing such tools right from the start reduces reliance on post-production adjustments.
To put it simply, it gives you the freedom of iteration and experimentation that was otherwise not possible with conventional tools. One could actually start post-production as early as in the developmental stage itself.
One could modify and repurpose the assets without impacting the visual consistency. And guess what, the digital assets are now cross-compatible across every phase of the project. This reduces the uncertainty that comes with traditional production tools. Principal photography helps discover problems during the filmmaking process rather than causing a stir during post-production.
So,
How does it work?
With virtual production, one used virtual reality and augmented reality technologies, allowing the end-users to see their scenes unfold as they capture them on set. One can easily replicate real-world counterparts in real-time using digital assets on a set.
But that's already in progress. However, the benefits of virtual production aren't limited to film-making projects only. It's expanding its horizon in the live shows as well.
Let's take a look at the real-life examples of virtual production in live shows that's quite a sensation nowadays. Let's get started!
Real-life examples for better insights
Fashion runways
The pandemic restrictions accelerated the use of virtual production to showcase new fashion trends. For instance, Louis Vuitton 2021 introduced their spring-summer collection through virtual production using ten reality engines, robotic cameras, cable cams, and a building-in backdrop.
Another virtual production in the fashion show was the talk of the town when they used a dynamic LED screen backdrop for the GirlsAward.
Live Games
Many sports events were unable to gather a live audience. But if you watch the games from home, the audience is a bit part of the fun times that fans at home experience. For example, MLB filling the stadium using Unreal Engine. They created fake audiences in the stands and used audio of the audience cheering.
Another example is the use of live-action with multiple virtual stages and graphics in the 2020 Super Bowl pre-game. So, one could see results in real-time, making adjustments and improvements.
Corporate events
Salesforce's annual Dreamforce event included virtual production to travel abroad. For instance, they were actually in Marin, California. But they set up a shot on top of a mountain in the Alps. This was a significant breakthrough, especially in the business world.
Another firm, Intelligence Turkey, used this new format to create a virtual stage using technology, content and even building agencies.
And who can forget about the US election coverage using the Reality Engine powered 15*11 green screens? Using the new innovative virtual production technology, many broadcasters brought election coverage to their native country. It won't be wrong to say that it brings stories to life.
Final Takeaways- Blending reality into technology for extraordinary experiences
New virtual environments in the entertainment industry are accelerating the blending of technology and conventional methods almost every day. It won't be wrong to say that innovation is abundant.
A lot of revolution is happening nowadays. This technology empowers filmmakers and other corporations to create projects based on what "feels" right rather than guessing where things should go. In other words, it is putting the storytelling back in the hands of filmmakers rather than technicians.
Clearly, it is a big thing. But even small or independent filmmakers can take advantage of this new technology. For instance, Kevin Margo, director at Blur Studio, used CG-Construct short using virtual production techniques to create a story of the robot construction workers.
If you want to know more about virtual production, here are some starting points.
Unreal has a dedicated hub for virtual production.

Unity also has a dedicated page on its website.

A Dutch startup, Deepspace providing virtual production services for previs.

The Institute of Animation of German's Filmakademie Baden Wurttemberg released an open-source tablet as an on-set editing application called VPET.
In a nutshell, the entertainment industry is leveraging the benefits that come with using virtual production technology. For instance, here's how it simplifies workflows.
You can film whenever you want.

No more refilming of scenes. It's now available with just a click.

Fewer sets mean more budget for creativity.

Lesser people on set or remote working affordability.

Unlocks new opportunities.