Virtual Assistants For Improving Customer Experience in Telecom Industry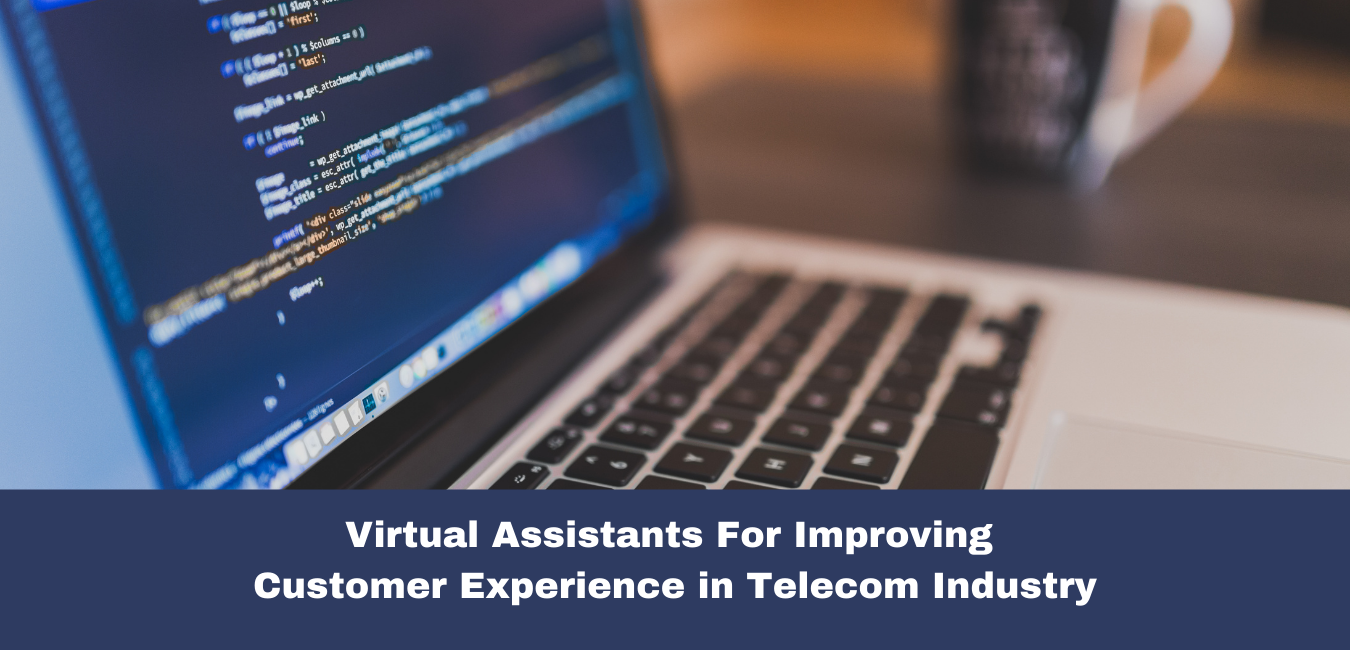 If you consider the customer satisfaction index, the telecom industry is probably one of the worst ranking industries. But that was only until 2019. By the end of 2020, together, the sector made sure to climb up the satisfaction rate. And guess what? They will be able to do that. However, it's just the beginning.
The importance of customer experience is growing like never before. And one tool that's helping telecom industries is the use of virtual assistants. Did you know that OTT platforms are eroding the revenues of telecom industries? With video-on-demand media, the consumers are trying to cut the cord even more eager than ever before.
However, things are changing. How? Let's find out!
Virtual Assistants Aiding in Better CX in Telecom: Decoding the Ways
If the telecom industry upgrades its digital customer engagement scale, it can easily experience the upsides in terms of better engagement, services, resulting in boosting sales. However, telecom operators often don't have the people to shift their focus to digital-first sales. And real-time customer support is even more struggling.
But who said one needs humans to meet the demands of the changing digital landscapes? Honestly, one can invest in intelligent VAs to help their current teams more effectively in the following ways.
Deal With Repetitive or Standard Technical Issues
The customer support team has to often go through some redundant or repetitive issues, which are often time-consuming. But with AI virtual assistants, one can easily bypass the troubleshooting phase.
For instance, they could be helpful with CDRs, providing general information about regulatory guidelines, maintenance works, or outages. Not only that, but it could also be beneficial with logging all incident reports and prioritizing tickets for the human counterparts.
One of the leading telecom operators, Nokia, introduced this concept back in 2017, known as MIKA. Not only does it support them with diagnostics, but it is also helpful in tackling common networking issues. It helped them increase the first contact resolution by multiple folds.
The chatbot could help the operators handle customer complaints, refunds, updates, and more.
Supports Telecom Organizations with 24/7 Customer Service
With the pandemic hitting the world, no one had the option to shift to new strategies like remote customer servicing and engagement. However, this puts a toll on the customer service teams. But after implementing tiered customer service offerings and using a mixture of bots and human counterparts, the issues aren't what they used to be.
But how?
It's helping solve simple customer queries without the need for any human intervention. In fact, as per a survey by IBM, they found that more than 50% of telecom customers preferred using any self-service options.
The conversational bots act as proactive assistants who help with data lookup, simple service diagnostic tests, or settings changes.
Intelligent virtual assistants often reroute the complex issues to the human agents and set priorities accordingly.
The best advantage of such assistants is that they work on self-learning capabilities. So, the efficiency increases over time. For example, Vodafone's TOBi scaled 100% communication with more than a 25% automation rate.
Quick resolution to Complex Issues
Since virtual assistants help with initial customer screening, they can quickly relay insights to human agents in the following manner. They provide the support team with general customer or account information, general issue information, resolution methods already used, and priority/ severity status.
Using good quality virtual assistants with NLP capabilities will enable them to summarize the helpful information to the agent. For instance, Telia, a Swedish-based telecom operator, suggested that a chatbot could help complete the work, including 18 agents answering repetitive questions.
Improves Personalized and Engaging Services
OTT players have already set the bar high in terms of personalization. And telecoms need to catch up. The good news is that they already have access to volumes of data. So, all they have to do is connect the dots.
Using virtual assistants integrated with deep learning algorithms can help telecom providers to offer highly personalized recommendations. In fact, one telecom operator used this approach and increased revenue by more than 10%, along with increased LTV customer portfolios.
Besides this, using a combination of digital channels can help attract, convert, engage, and renew new clients while retaining the already associated customers.
Are you still wondering why you should employ such measures? The following reasons will help you make an informed decision.
A study confirmed that using a virtual customer assistant helps to reduce more than 70% of email queries. And this reduces around 30% costs per voice engagement.
Since virtual assistants help manage emails, addressing support requests, messages, and other requests, they reduce work-related stress, thus allowing employees to focus on better tasks.
Virtual assistants help companies save on office space expenditure, maintenance costs, and other taxes. In fact, this means it costs a lot less than hiring regular employees.
It won't be wrong to say that this tool helps the industry by enabling them to deliver quick, consistent, and personalized responses. And that's the rule of today's changing consumer preferences. Irrespective of the industry, customers must be at the center of every strategy.
Are you doing that?
Final Takeaways
The Telecom industry didn't think about stellar CX until OTT players did some fantastic job with customer behavior. And the new innovative technology and innovations, the digital journeys are evolving with every passing year.
Whatever you want to do in a relationship with customer experience, one needs to focus on service preferences. For instance, if it is achievable within a few clicks, it is worth a deal. Not only does it reduce resolution times, but it is also helpful in improving overall service deliveries.
Having said that, there is still a long way to go. The deployment of 5G networks is helping telecom players to do it even more swiftly. They are using it to recoup their lost revenues. If you are still wondering how to improve your customer experience, then bring new digital tools to your customer support offerings.
So are you employing these measures or still using the same old technology?