Trends and Opportunities in the Smart Poles Industry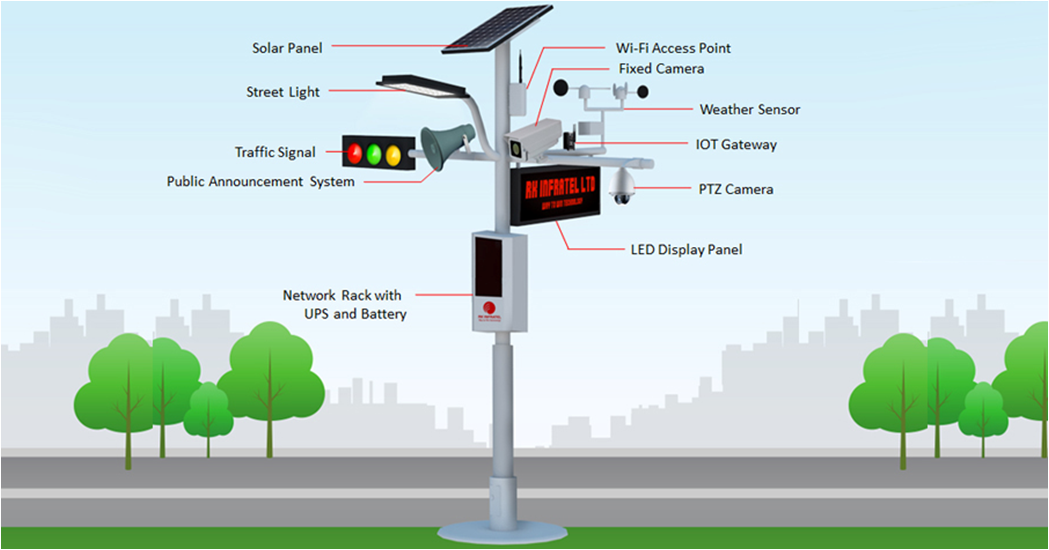 The demand for automated lighting poles was the impetus for the development of smart poles. Companies that sold and maintained city lighting required a solution to automate various jobs on a large scale in order to reduce costs and increase efficiency. They required a system that could adapt to changing environmental circumstances such as light and fog. They eventually realized that lighting sensors aren't the only item that can be attached to a pole. As a result, the smart lighting pole arose from the dreams of those who saw beyond lights. However, in order for an ecosystem to function, connectivity was a top priority. Cities will grow smarter as smart lighting poles are already being installed around the world, and 5G is on its way.
Smart City Development And Advanced Remote Control Systems Fuelling The Industry
Poles are the most practical infrastructure for hosting a fiber network, and they can also be utilized to host tiny cells and antennas to meet 5G density requirements. The adoption of smart city solutions is driven by a desire to reduce energy consumption and a worry about the spread of environmental trash. Governments' efforts to minimize their carbon footprint have escalated as concerns about global warming and ozone depletion have grown, with stronger rules imposed to curb emissions. Intelligent infrastructure automation, smart grids, and control systems cut power consumption and carbon emissions while minimizing losses and improving operations.
COVID-19 Impact Analysis on the Global Smart Pole Market
COVID-19 has impacted practically every country on the planet, creating major economic and healthcare problems. The epidemic compelled governments to take measures that would normally be saved for war, depression, or natural calamities. Governments all across the world are taking drastic efforts to prevent human deaths and economic devastation. The epidemic has had a negative influence on the market for smart poles. Due to the outbreak of COVID-19, some countries implemented stringent lockdowns, shutdowns, and mobility restrictions to prevent the virus from spreading. As a result of the pandemic, manpower efforts were curtailed. For example, during the crisis, Silicon Valley was almost completely shut down, making it difficult to meet the needs of smart cities and obstructing strategic management and planning by the government and other stakeholders. COVID-19 has had a global impact on the healthcare and energy industries. However, to tackle the obstacles posed by the epidemic, these businesses are attempting to integrate emerging technologies such as AI and IoT.
Smart Poles Assisting and Improving City Services
Street light poles are one possible starting point for smart city implementation. Signify recently unveiled its BrightSites smart pole technology, which takes advantage of a city's existing street light network to enable key wireless connections such as 4G LTE, 5G, Wi-Fi, and Sigfox. BrightSites can serve a wide range of IoT applications while also providing controlled, energy-efficient LED illumination via smart poles wireless networking capabilities.
Smart poles, like BrightSites, employ small-cell base stations embedded within the pole to operate. Smart poles allow city planners to densify urban network capacity and coverage at their own speed with minimal interruption because they work within a city's street lighting infrastructure. IoT capabilities, if installed, can serve as essential building blocks for a municipality's smart city programme.
Reducing The Time It Takes To Respond To An Emergency
When it comes to medical or criminal situations, time is of the essence. Emergency agencies and first responders now have a powerful smart detection tool thanks to IoT connectivity and smart pole technology, which can help them decrease the emergency response gap. Microphones installed in the smart pole, for example, may be equipped with pattern recognition technology to detect calls for help, car alarms, broken glass, gunshots, and other indicators of potential crimes or crises. When a smart pole detects such an occurrence, it can instantly activate its light, record audio, and notify emergency personnel.
Improving The Quality Of The Air
Air pollution is a problem that affects every city. According to the World Health Organization, seven million people die each year as a result of illnesses caused by poor air quality and pollution. While reducing emissions citywide is the long-term solution to the problem of urban air pollution, smart poles can assist in identifying the regions with the greatest need. Smart pole sensors may measure fine particulate matter concentration, temperature, and humidity to get a complete view of an area's total air quality. This environmental data can be displayed on smart poles to help residents reduce their exposure to air pollution, and city planners can utilize the data to help them make decisions that will improve urban air quality.
Opportunities for Data Monetization
Cities may be able to generate cash from smart poles. Mounted display screens (digital signs) provide chances for targeted advertising campaigns in addition to providing critical emergency messaging. Pedestrian movement and traffic data, for example, can be exploited for private commercial development and other city planning purposes. Smart poles' telecommunications infrastructure can be licensed to several carriers who want to provide their customers with fast connection speeds.
What Aspects Of Urban Life Can Smart Lighting Poles Help?
Traffic:

One of the major sources of frustration in large cities is traffic. IoT sensors can count and classify vehicles as well as monitor general traffic flow, delivering useful information. Traffic signal operators can use this information to optimize the system for both motorists and pedestrians. A dynamically regulated traffic ecosystem that responds to varied obstacles in real time can be created using a set of automated rules.

Parking:

A robust parking strategy is required, particularly in city centers. Sensors put on lighting poles, for example, can check for parking vacancies and notify users of the closest parking spot via a mobile app.

The state of the air:

Air pollution has a direct and indirect impact on the quality of life in cities. As a result, city governments all around the world are scrambling to find quick answers to this public health problem. The first stage is to make a map of the problematic locations, as well as a visual representation of the contaminants present. Mayors can better handle the problem now that they have this knowledge.

Response to an emergency:

In two ways, a smart pole can assist emergency services in reducing response times. The first is an SOS button, which allows anyone who has observed an accident to report it quickly and easily. The emergency response center then uses CCTV monitoring to direct the most appropriate assistance as quickly as feasible.
Conclusion
A smart pole can include all of these and much more sensors, but it isn't required. Every city has its unique set of issues to address, and the beauty of smart poles is that they can be tailored to fit any situation. Cities may decide what their priorities are and then add to their existing smart sensor portfolio. Almost any city service can be upgraded and improved with IoT connectivity because of the versatility of smart poles. To attain this level of connectivity, city planners and developers will require an end-to-end solution that will boost operational efficiency, shorten time-to-market, and open up new revenue sources for local infrastructure.