The RFID-assisted healthcare revolution is helping to save lives - How?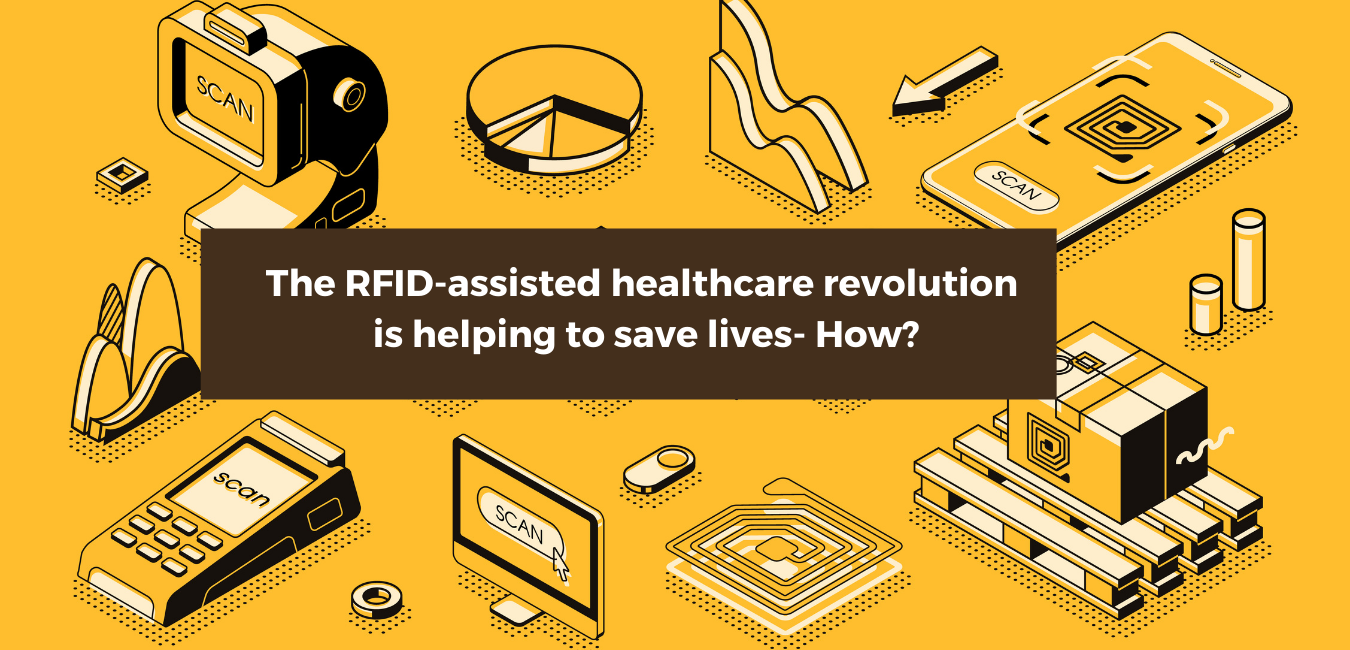 In the healthcare sector, the providers face many challenges. Some of them include:
Efficient workflow

Patient safety

Cost-effective administration
There is one solution that addresses all these challenges. Yes, you heard it right! Radio Frequency Identification or RFID technology is an ideal way to navigate all the challenges in healthcare settings. If you manage a hospital, clinic, or nursing home, you know that providing excellent care is of utmost importance.
Within no time, the healthcare industry is becoming more invested in RFID technology. And the reason that's driving its growth is its sheer number of applications. It won't be wrong to say that the applications in healthcare are very positive. Many believe that it could be "The next disruptive innovation in this space." Not only is it helpful in automating processes, but it could have a substantial role in patient satisfaction.
Do you want to know how it is helping healthcare organizations save patient lives? Keep reading, and you will know!
Tracking and authentication of Inventory
Remember when there were no medicines or supplies to cater to the needs of millions of doctors and patients out there. No healthcare organization can flourish if there are challenges in its inventory. However, doing it manually is quite a time-consuming task. This is where RFID comes into the picture.
Hospitals have to face changing supply of medicine and other essentials. So, they must be tracked to keep the patient-care top-notch. Using RFID systems, you can easily track all the assets. So, one can quickly reduce the time spent counting. Plus, one has the advantage of getting accurate data about the type and amount of drugs that are there. Also, with counterfeiting on the rise, it can help with the verification process to check when it is a quality product or not.
Tracking patients and staff
Many hospitals are using this technology to track passive RFID technology. In this solution, the management outfits RFID tags on the staff for primarily the following reasons: (1) Patient information verification (2) Reduce wait times (3) Patient tracking. These are often referred to as passive RFID systems.
These RFID wristbands help organizations maintain and verify patients and their records. These tags are associated with a database that allows organizations to manage emergencies. This is especially the case when so many accidents are happening in the outside world.
On the other hand, active RFIDs are used in many ways. It could be tracking real-time locations to move patients in and out more efficiently. This is also helpful in reducing the number of infant abductions in hospitals.
But that's not all!
It could be a life-saving technology that will involve everything from medical devices, surgical equipment, and so much more. For instance, it can be helpful in the following ways.
It can help reduce lab errors by tracking the equipment, such as vials and test tubes, that promote efficiency.
It is a proven effective technology for instruments associated with surgical procedures, large and small. This helps in proper accounting for instruments but also in ensuring nothing is left during surgery. For instance, it could be helpful with sterilization and autoclave asset tracking. On-metal RFID tags allow the organization to track inventory purposes.
RFID technology is quite effective for refrigerated storage environments. It is pretty helpful to safely monitor and store the devices which require specific storage temperatures.
It could also help track laundry for laundry tracking. Using it, you ensure inventory management and cleanliness.
If you are still not confident enough about using this technology, the following examples can help you review your current situation.
Real-life examples
A hospital in Concord Hospital in New Hampshire is using this technology to avoid supply overstocking. They use supply chain manager Logi-D's 2 Bin-ID system. These tags have a passive RFID transponder. This allowed them to reach a 13% inventory reduction in their surgery unit, ICU, and emergency department.
Sanraku Hospital in Tokyo collaborated with BayNexus to manage their medical equipment. They are using handheld readers with RFID tags. They match the information with prescriptions in EHRs. Thus, allowing them to improve their drug inventory and traceability system.
Wake Forest Baptist Medical Center uses RFID tags to reduce the time of asset tracking meant for X-ray protection. It allowed them to switch to a digital system to make their records accurate and equipment tracking less challenging.
Another hospital named Texas Health Harris Methodist Hospitals uses RFID tags to trace patients who came in contact with contagious patients like TB. It uses this mission to alert people who need to be scanned.
Final Takeaways- RFID Technology Continues to Expand For Providing Effective Healthcare Solutions
RFID technology continues to expand, impacting a plethora of industries. Do you know that around 7 billion RFID tags are used in the retail sector alone? The same is quite possible in the healthcare industry as well. One can expect an RFID-assisted revolution in this space which can be quite helpful in saving lives.
The idea is to create efficiency and care while managing operations and systems or more precise personnel and safety processes. It is the future of the wave. Let's not forget that the healthcare industry is more about saving lives. And these tags and sensors can help make a critical difference in this regard.
For example,
RFID-enabled wristbands can enhance safety via point-of-care scanning. This will help the facilities to retrieve all the data related to the patient without any potential errors.

Using RFID tags, one can reduce the potential of infection by embedding devices used for replacement surgeries.

One can use these tags to ensure infant safety from any possible unauthorized removal.

The screening process can be easy using this technology.
In the end, it's all about providing quality care to ensure patient safety and care. The proper medication, staff, and assets are required to achieve positive results. And RFID technology is helping the healthcare industry with this.
So, if you are also a part of this industry, are you using this technology? If yes, is it in the initial or advanced stages? And if not, why are you still waiting?