The need for personalized healthcare is increasing - What are the next steps?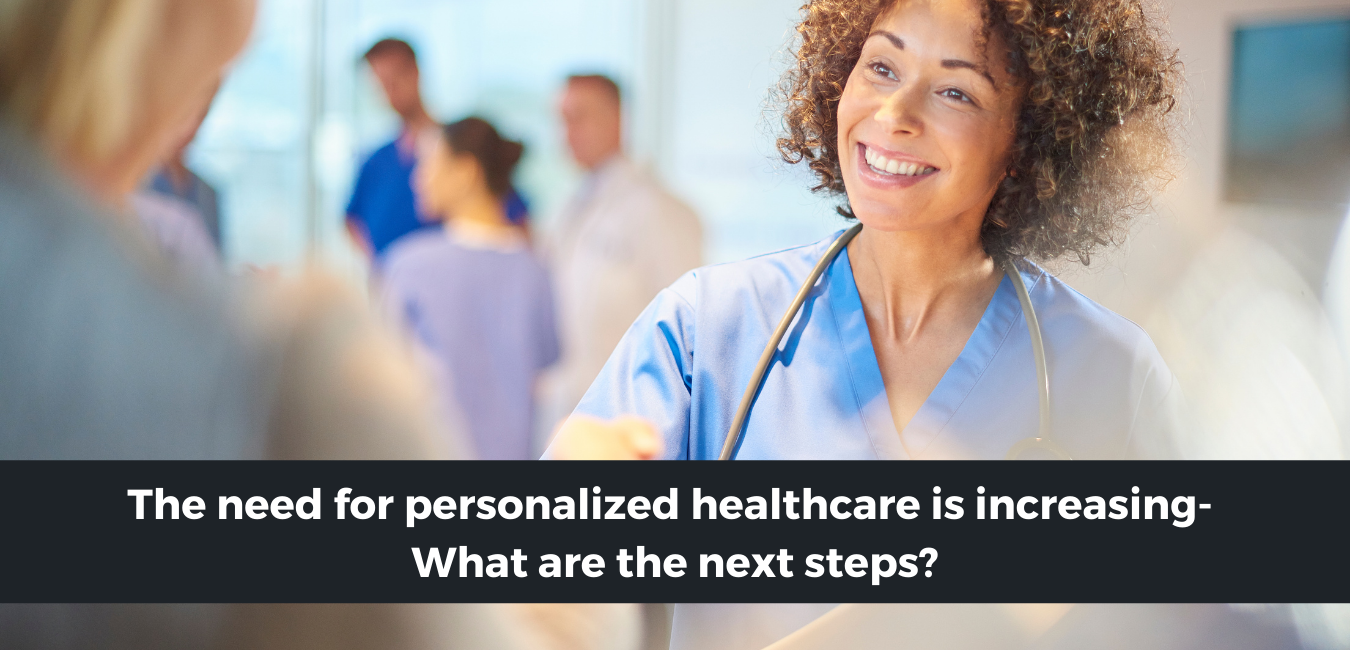 The pandemic, COVID-19, was a setback in many ways. Millions of lives were lost, the economy tumbled down like a domino effect, and millions lost their jobs. It felt like a complete disaster. But did you know that fantastic opportunity is disguised as the most significant disaster? That's what happened to the healthcare industry.
It was an industry that was the last to adopt new inventions, digital transformations, and new technologies. What we thought we could achieve in the year 2040 went fast-forward, and here we are, an improved and entirely rebranded, and redefined sector.
At the same time, this pandemic also transformed a provider-centric healthcare model into a customer-centric one. After all, this model helps address many factors like the transition of care, care coordination, and access to care. To put it simply, personalized care became an essential aspect of caring delivery.
In fact, this has a constant and admirable impact on the overall health system and well-being. The 2021 Health Care study insights by CVS Health suggested that there will be profound effects if you transform your healthcare model towards changing patient health preferences.
This article will get insights into the changing consumer behavior and the next steps that healthcare businesses must take to stand above the competition. Let's begin!
Consumer behavior is changing- Sharing insights
With the consumers getting caught off guard by expected medical events, consumers started connecting their care outcomes to provider and health insurance experience. Consumers are usually less satisfied if they experience high-cost unplanned follow-up care. If you consider consumer experiences and want to accelerate the consumer experience, you must think about the following trends that will slowly become a "go-to" solution for this industry.
Healthcare 24/7 become a need than an option
The pandemic pushed forward the importance of the presence of healthcare solutions at the right time, or should we say "anytime." This transformation in the last two years boosted the use of telemedicine. It also brought forward the need for a "neighborhood primary care healthcare model."
In fact, as per a survey about telehealth services in the US, it was seen that it rose to a whopping 600%. Many believe that once this pandemic ends, there will still be an engagement around 30% above it was before the pandemic hit the world badly.
Besides that, preventive and everyday care are also marching towards a model where health solutions reach people right where they are. There is an increase in community health centers and local pharmacies for primary care. This redirects health towards a community-based model that must be on the top of your "to-dos" since it enables the provider to improve access to different healthcare solutions ranging from aftercare to preventive care.
Further, many are looking for a hybrid approach to care that features in-person and virtual appointments. Not only that, mental health matters now. More than 60% of the respondents said they would consider a virtual visit to see a behavioral health specialist.
In fact, many personalized interventions have already begun showing promising results, as an 8% increase in medication adherence, a 4% increase in closing down healthcare gaps, and a 12% reduction in emergency care visits.
Healthcare isn't a one-person thing. It's a team sport
The pandemic triggered many changes, including vaccine innovations and treatments, allowing healthcare to deliver care differently. But you can't simply change your outlook, and patients will start approaching you. There are some critical changes in physician assistants, pharmacists, and nurses.
In fact, consumers often see pharmacists as entirely trustworthy compared to others. This is why you must reach out to these primary care workers and evolve your strategies so that they start recommending you to their consumers.
Clearly, these unique challenges pushed the providers to meet their patients at their place or want to be concerning their healthcare journeys. This is a difficult time, and it has changed care demands while exposing the vulnerability of the healthcare system. It highlighted the need for:
24/7 care

Access to affordable and accessible mental health care.

Need for community-based healthcare teams to meet the different types of healthcare needs.
As you move towards 2022, you must start implementing these suggestions to your care model and see the change from that moment on. Moving on, there will be power in partnerships to grow comprehensive solutions.
Humanizing care is the key now to engaging with your patients/ consumers now
The expectations of personalization in healthcare are reaching a new standard now. Patients expect to be understood and heard when carrying out digital interactions. They want digital tools to be available, approachable, anonymous, and often free.
Consumers don't want to hear any scientific jargon. They want to feel empowered by taking an active role in their well-being. They want authentic and human connections with their providers. Healthcare organizations who are stepping up to make it possible to meet such needs and reimagining their patient care strategies are enhancing patient journey and reconnecting and re-establishing their relationship with their end-users.
For example, people with issues related to brain health often fear being isolated. However, a nonprofit launched Brain Guide is one of a kind that helps with tailored education and resources. It creates personalized and emotionally intelligent conversations and experiences. Further, ML, AI, VR are also helping people and patients to get support and humanized care while minimizing costs.
Final Takeaways: Personalization in healthcare ensures better care at better costs
Personalization in healthcare isn't only about installing digital systems alone. It's about developing personalized cancer vaccines, diagnosing rare conditions, and allocating the right people to deliver better care at the right time!
It combines tech, science, and individuals' unique needs to understand better what is better for your end-users. That's how you can grow more and stand out in the competition. What are you doing to create meaningful relationships with patients? This article will give you some insights on what you want to do and what you need to do to achieve success.
Personalization is the key. Embrace this model and your healthcare model will grow.