Predictive Analysis in Healthcare: Proactively identify patients who are at highest risk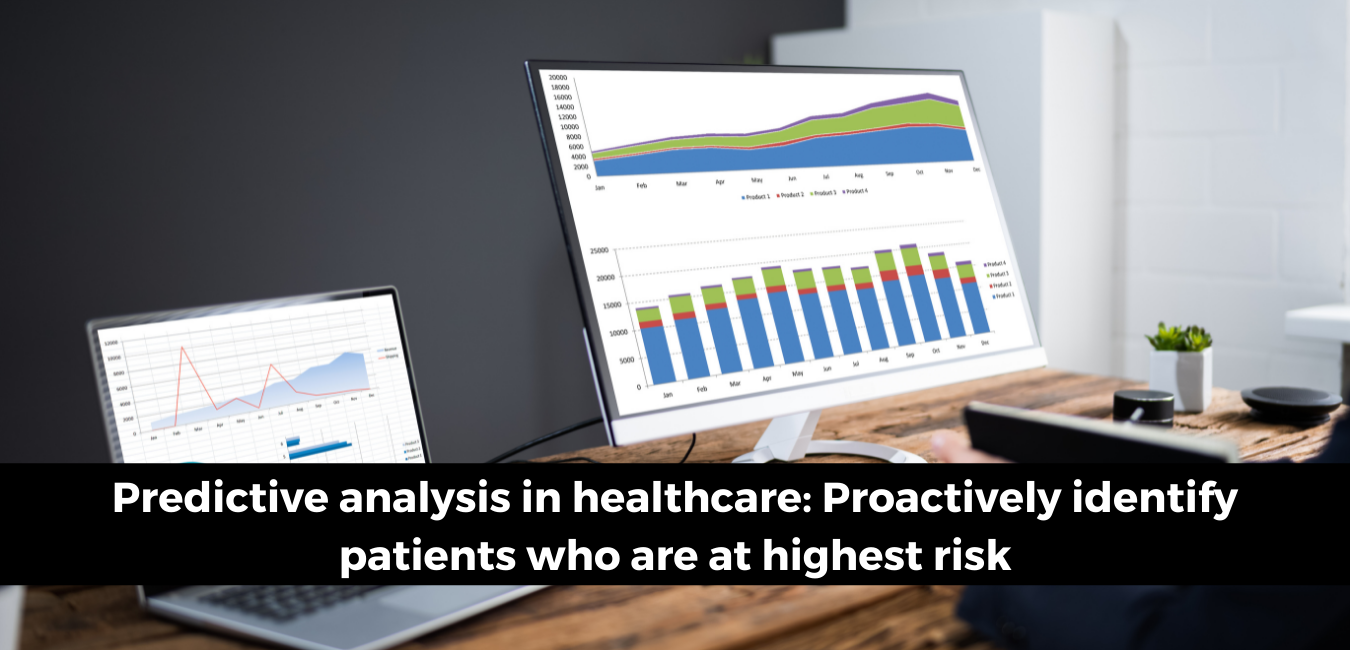 "I've never been able to predict the future of anything," said Bob Edwards, one of the most accomplished American journalists.
This quote fits well for almost everything in this world. But with technological innovations, predictive analytics is doing a fantastic job helping healthcare providers develop solutions tailored to individual patients.
But how did it start?
The providers can get access to tons of data. It is easier to do something about it. After all, it's on their fingertips now. From EHRs, medical images to administrative data, no one has to surf through files anymore. Just tap, and it's done.
The question here is, how can you use this data in your favor?
Healthcare organizations have a sheer volume of data coming from a plethora of sources. It can be quite overwhelming, especially since such sources don't have any way of talking to one another. That's where predictive analytics comes into the picture. It gives a view of the patient's medical history and other social determinants.
It is a discipline where the providers use different strategies like AI, data mining, and others to evaluate the patient's history and real-time data to predict what kind of treatment will work for the patient. The idea is to deliver efficient care in time to get quality services with better outcomes.
But how does it help providers proactively identify patients at high risk and get them the help they need? Let's find out more!
Identifying at-risk patients within time
Predictive analytics is a way which helps to identify various risk factors. For instance, it can identify patients with diabetes at risk of hospitalization depending on factors like age, other chronic conditions, medications, and care settings.
The idea is to create a solution which allows early interventions to reduce emergency visits and hospital readmission rates as well. It's like you don't have to wait for the at-risk patient to wait until they feel not good about themselves. You can set a reminder and ask them to see a specialist for timely care offerings.
In short, you raise awareness and offer support to patients before they end up in the emergency room with no or less hope. What else? These tools are pretty helpful in remote patient monitoring and ML to support hospital decisions. Thus, acting as tailored communication allows patients to refill their prescriptions and other healthcare-related needs.
Thus, the providers can reduce negative events for patients with long-term issues. Further, this streamlines patient experiences. And encourages them to better adhere to healthcare protocols for better outcomes.
But that's not all! It helps healthcare providers in various other forms. Let's find out more!
Benefits of Predictive Analysis in Healthcare
It improves decision-making:

It is proving to be a significant asset in the medical decision-making process. Not every patient is the same, especially those with chronic health conditions. So, if one can predict what treatment methods would work, the experimentation will reduce, and results will get better. It's like it will be easier to find something that covers in a single cycle. A study confirmed that using predictive analysis could help determine the likelihood of cardiovascular disease.
It could help reduce patient leakage:

Healthcare organizations often face the issue of late arrivals and no-shows at all. And this causes havoc with scheduling. But with predictive analysis, one can find data to get a bigger picture. Using AI, one can determine how providers can be alerted on time. Thus, no missed appointments. It can also increase the coverage of healthcare networks.
It might help with population health management:

The [providers can develop the best treatment plans with predictive analytics. They will know about the patient's conditions and history and find other patients with similar backgrounds. Thus, it will help them identify clinical pathways that might help with better patient outcomes.
It could be instrumental in improving patient outcomes:

Many global leaders believe that healthcare providers can help improve patient outcomes by using data-driven insights. In a study on JAMA, researchers highlighted that ML and predictive analytics could help with highlighting risk factors in COVID-19 patients. It could be helpful to determine the severity of COVID-19 from person to person. Not only that, as mentioned before, it could be beneficial to determine severe infections or chronic diseases.
In short, since it will streamline the process of healthcare services and treatment plans, it is turning out to be a savior for healthcare workers. According to a study, around 62% of the time is used to review EHRs. With these tools, physicians can save a lot of time to get quick and accurate information.
For instance, Michigan State University researchers are developing an app that could use predictive analytics to determine if any individual is showing any early signs of Alzheimer's. The idea is to give time to physicians to take the final call.
Final Thoughts: Harness The Power of Technology for Better Patient Care
Predictive analytics relies heavily on big data and AI. The idea is to sum up the data into one place that makes sense. It can help provide facts and data to help providers to figure out:
Are there any diseases likely to develop?

How will they help with data around treatments?

Will there be a no-show on their next appointment?

What are the chances of hospital readmissions?
Thus, it will accelerate the progress of healthcare into something very personalized. Using this technology, the providers can expect the following benefits:
Reducing the cost when there is no show or readmission.

Speed up administrative tasks such as the discharge process.

Prevents the impact of cyberattacks

Proactively prepares health trends

Customer acquisition with personalized campaigns.
If you are looking to scale your healthcare business, this is one of the best ways to improve patient outcomes and your reputation in the market. Such innovations are turning out to be a boon for the healthcare industry. It's time you use it for your and your patient's benefits. So, have you given it a thought? Or should we help you with that?