Med-tech Trends That Will Dominate Most of 2022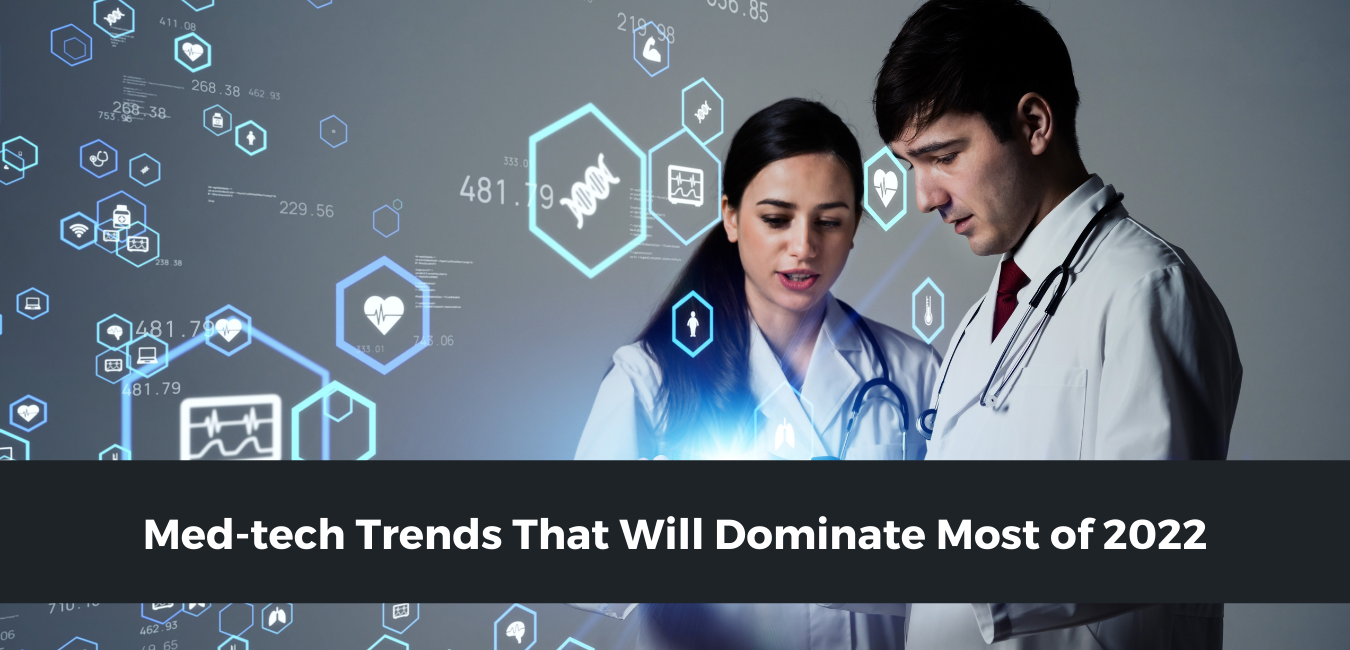 Pandemic isn't ending anytime soon. With the Omicron variant spreading like a fire, the healthcare industry is witnessing an upward trend in med-tech trends. They are growing to either counter or benefit from the pandemic. Clearly, the healthcare industry has to cope with a myriad of challenges like:
Delivery of mass vaccination programs.
Dealing with the diminishing workforce.

Increased burden of non-communicable disorders.
These led to an increased reliance on digital transformation to encompass data-driven decision-making. Many believe that the following areas will become the critical drivers of the med-tech revolution and innovation in the coming years.
Sustainability will become more crucial. Digital modalities and other approaches will cut down unnecessary hospital visits, which will eventually help attain sustainability while decreasing carbon footprint.
With digital technologies becoming more prominent in this sector, security will become a subject of growth and interest. The interest will be towards keeping the public health incidents to the minimum.
Workforce scarcity is quite prevalent even today. And with the burnout rates increasing, there will be a lot of challenges in this sector. Digital implementations will be focused on helping the challenged workforces and supporting them to blend healthcare provisions in a way that reduces burnout rates.
Management of noncommunicable diseases will require more than just after-care offerings. Health systems will work towards preventive care and delivering value rather than volume using health systems.
Digital transformation deployment will be around these factors, and health and wellness organizations will possibly make more large-scale attempts to integrate trends into traditional business offerings.
With 2022 already started, it's high time to look at the technologies that will define MedTech innovation this year. In this article, you will find some med tech trends that will rule in 2022.
Med Tech Trends That Will Rule in 2022
The digital transformation started a few years back. But the pandemic gave no time to the healthcare sector to review or assess whether they were all set to use it to its full potential. Clearly, companies took this approach and adapted to the "new normal." Here's what you expect with the Omicron cases shooting up.
Telemedicine will become an integrated solution to the healthcare landscape
A small percentage of the population only used telehealth services or telemedicine solutions. But since the past two years with social distancing and stay-at-home orders, consumers readily shifted to care delivery models that allowed them to get care offerings right from the comfort of their home.
Telemedicine became quite popular and is more likely to become quite an important service offering this year. It will establish itself as a permanent fixture in this ecosystem. Healthcare providers will now strengthen and formalize training to research and promote telehealth practices. There will be a rise in telehealth which will drive more dialogue around accessibility modes.
Remote monitoring will become a norm
While it's becoming quite a catch-all phrase since last year, remote monitoring will help monitor patients at home using digital devices and diagnostic tools. There will be a lot of focus on understanding the procedures and technicalities of operating such systems and making sense.
Innovations like these will be facilitated by non-traditional health players more. For instance, Best Buy acquired Current Health, an at-home health startup, and Amazon continued to explore this space by adding Alexa Together, a subscription service designed to help consumers with elders at home. Clearly, there will be a lot of changes and experiments that will be the highlight of 2022.
Much emphasis will be given to bridging the gap between digital healthcare solutions with remote monitoring service offerings for better care.
Unstructured health data will be a foundation to build health equity
Various ML tools will come to the forefront to help healthcare organizations with text mining to find valuable health equity insights. A lot of data gets wasted because there were no tools earlier. Now there will be a lot of focus on revealing valuable insights and sharing them across health systems. 2022 will be a pivotal year that will use healthcare data and use it to deliver the best healthcare offerings everywhere.
Artificial Intelligence will considerably reduce HAIs
In 2022, once again, a lot of emphasis will be given to reducing infections. And AI will have a role in monitoring patients in real-time and identifying infection risk proactively. Thus, helping hospitals track any infection risks and plan an early intervention. There will be a lot of investments in this sector to leverage AI for identifying at-risk patients and help clinicians apply evidence-based strategies to prevent it from spreading.
Further, AI will influence the entire care pathway from diagnosis to prescribing to back office. AI will emerge as a tool to improve patient outcomes.
Extended Reality Will Improve Healthcare Industry Substantially
We mean augmented reality, virtual reality, and mixed reality by extended reality. They will play a role in a variety of healthcare settings. One of the ways to use them is by surgeons in their headsets like Microsoft Hololens. This helps them to use both their hands during a procedure. These tools are helping enrich surgeries by providing the professionals with head-up information. It could also help find veins to draw from. Further, there is still a lot of debate about the metaverse. It could have a lot of potential in healthcare settings.
In short, all the focus will be towards "Better care and fewer people." All these interventions will be focused on addressing the shortage of workers and providing better care to their patients.
Final Takeaways: Med Tech Trends Will Grow in 2022
With so much happening around the technology space, the healthcare industry will boom. Patients will be quantified as more data will be available now. Digital technologies will transform the healthcare sector and be driven towards automated workflows. Lifesciences will be industrialized, and the lean operating model will increase.
Big Tech will change the paradigm, and disruptors will crop up. There will be a state of innovation, and telemedicine will explode this year. How will you adapt to these changes if you are a healthcare organization? Have you started digital integration? If not, what's stopping you?