IoMT tools are rapidly changing healthcare delivery. Decoding its potential!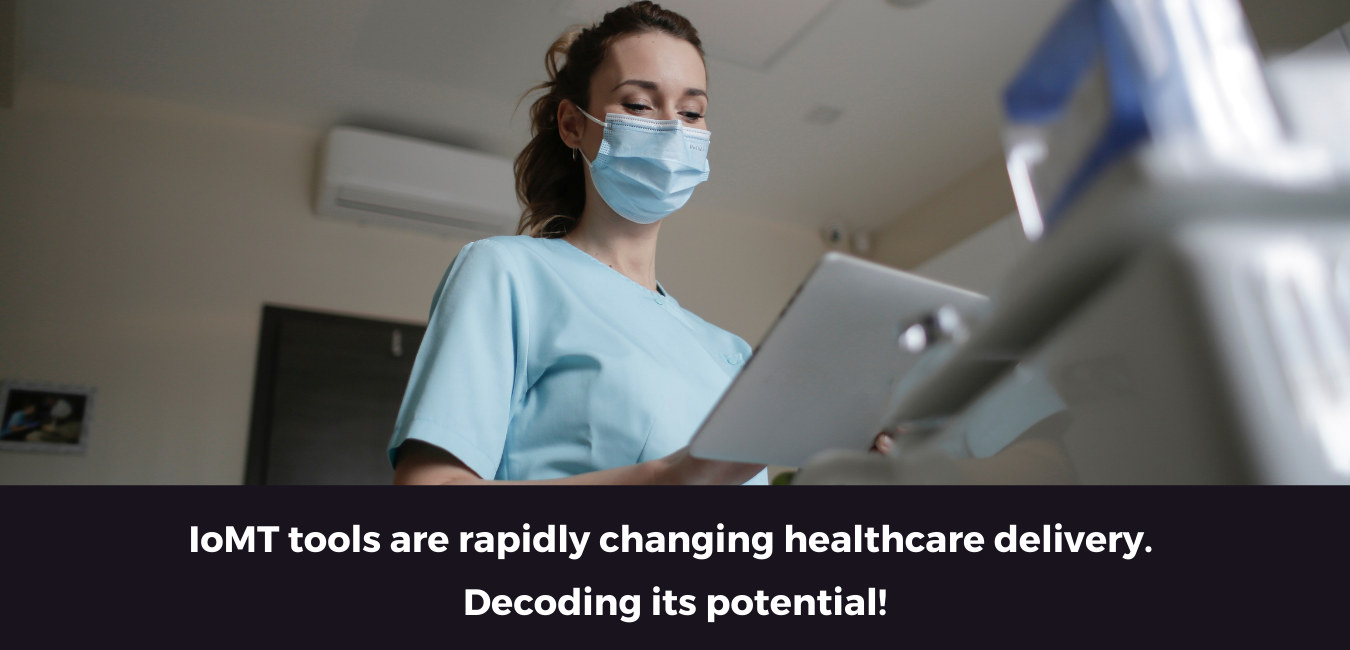 2020 was by far the only year that transformed the entire healthcare industry. The global pandemic propelled the healthcare industry to adapt and innovate. Healthcare will be at another level in the next 10 years by that point.
By this, we don't mean that they have substantially moved from the path they were already moving on. Digital technologies had already infiltrated this industry. The only difference was that investors were skeptical about adopting these innovative business models. But, with the pandemic, it is an expedited change now!
Following the change we achieved in 2020, 2021 will see similar changes in the technology trends. One such technology causing a ripple effect in the sector is IoMT or the Internet of Medical Things.
It won't come across as a surprise that devices that are a part of IoMT will readily solve many problems that healthcare has to deal with in 2020. As per a report by a leading company, IoT healthcare will allow savings up to around $300 billion by providing alternate ways to practice medicine.
Further, the global IoMT market will grow to around $254 billion by 2026. Undoubtedly, IoMT devices have the highest value in administering healthcare.
But what is IoMT? Let's dig a little deeper!
IoMT- A growing trend that will continue to change the healthcare industry
The IoMT, like IoT, is a connected infrastructure that comprises applications, health systems, medical devices, and other services. For instance, the wave of sensor-based tools like wearables and devices for remote patient monitoring makes a unique IoMT ecosystem.
This connectivity of medical devices and sensors is streamlining clinical workflow management. Hence, it is helping the healthcare industry provide better patient care services within the care facility walls and in remote locations.
But just by saying it helps won't change the fact that many of you would want to know more about this technology and its role in healthcare. Right?
So, let's get going!
The Potential of IoMT in Healthcare
Like IoT, IoMT also has a lot of architectural layers, including:
Perception layer where the smart medical devices collect health-related information

The connectivity layer allows data transmission to different networks

The processing layer stores and manages data.

The application layer helps the end-users with analytics, reporting, and other opportunities.
While you might think the IoMT market is a single ecosystem, it is divided into several segments.
Wearables/ Sensors: There are primarily two types of wearables available in the market: consumer health and clinical-grade wearables. The former is usually meant for wellness care. Nobody regulates these devices. However, the latter options are typically regulated, certified, and approved for use by medical professionals. Usually, people use it to ease chronic pain since it manipulates sensory nerves.
In-home Use: Virtual home care or remote care is quite a beneficial commodity healthcare providers use to evaluate patients through video observation. Besides that, it could be helpful for personal emergency response systems and remote patient monitoring to extend care offerings to patients with limitations.
Community use: Point-of-care diagnostic devices and emergency response intelligence, and logistics devices or kiosks help the providers virtually allow customers or patients to get what they need urgently.
In-clinic/ Hospital Use: IoMT is not only helpful for consumers, but it's also helpful for administrative or clinical functions like cloud-based examination platforms. It could be asset management, patient-flow management intelligence, inventory management, or energy monitoring intelligence.
It is pretty evident that it could help manage various healthcare and patient care pain points. For instance, one could use IoMT for:
Fall detection and prevention

Capsule endoscopy

Sleep monitoring

Hospital asset and equipment maintenance

Diabetes data tracking and analysis
Clearly, the capabilities of IoMT are widespread. What else?
What Does The Research Say?
It is no longer a mystery that IoMT helps in accurate diagnosis and reduces mistakes while lowering the cost of care. Thanks to the connected ecosystem, it allows patients and professionals to remain connected throughout their medical care.
A study by researchers confirmed the ability of Fitbit activity trackers to evaluate ischemic heart disease by recording their heart rates. This is why more than 80% of care providers are finally investing in remote care solutions.
Technology isn't only helping improve patient experiences. It is also helping reduce costs. Another positive effect is that IoMT would help providers with drug management. The introduction of small pills which contain microscopic sensors will transmit data to connected medical devices. In fact, companies like Proteus Discover are focusing on the effectiveness of smart pills.
Other companies like HQ's CorTemp use these pills to monitor patients' internal health.
The Result?
The IoMT ecosystem is expanding and giving way to other technologies like kiosks. This will further allow providers to monitor patients remotely, especially in the rural setting. Hence, one can expect better medical care services for all patients.
Final Takeaways: IoMT is evolving the healthcare industry for the better!
In the past two years, everyone has known the importance of telemedicine. Not only did it save money by cutting down on time and infrastructure costs, but it also helped patients receive their medical care without having to come to the care center.
This is how the IoT concept became so popular when it was already operational in the last few years. Its role in increasing operational productivity and making healthcare administration efficient made it a pretty big deal. This is why projections look so promising.
And with the IoMT devices allowing healthcare to reach remote areas is further expanding its importance in this niche. Digital wearables, telehealth services, point of care devices, or digital sensors will soon become a norm.
Plus, with the real-time data and tracking digital tags on medicines, this connected healthcare might even help fight against counterfeit drugs. Isn't that comforting for the patients? Admittedly, one can expect better care offerings from the providers in the times to come without seeing them face-to-face.
So, have you included this novel technology in your business offerings? If not, your time is now or else you will lose patients, who are looking for better care services now. Can you afford to do that?