Internet of Things (IoT) causing a paradigm shift in Media and Entertainment Industry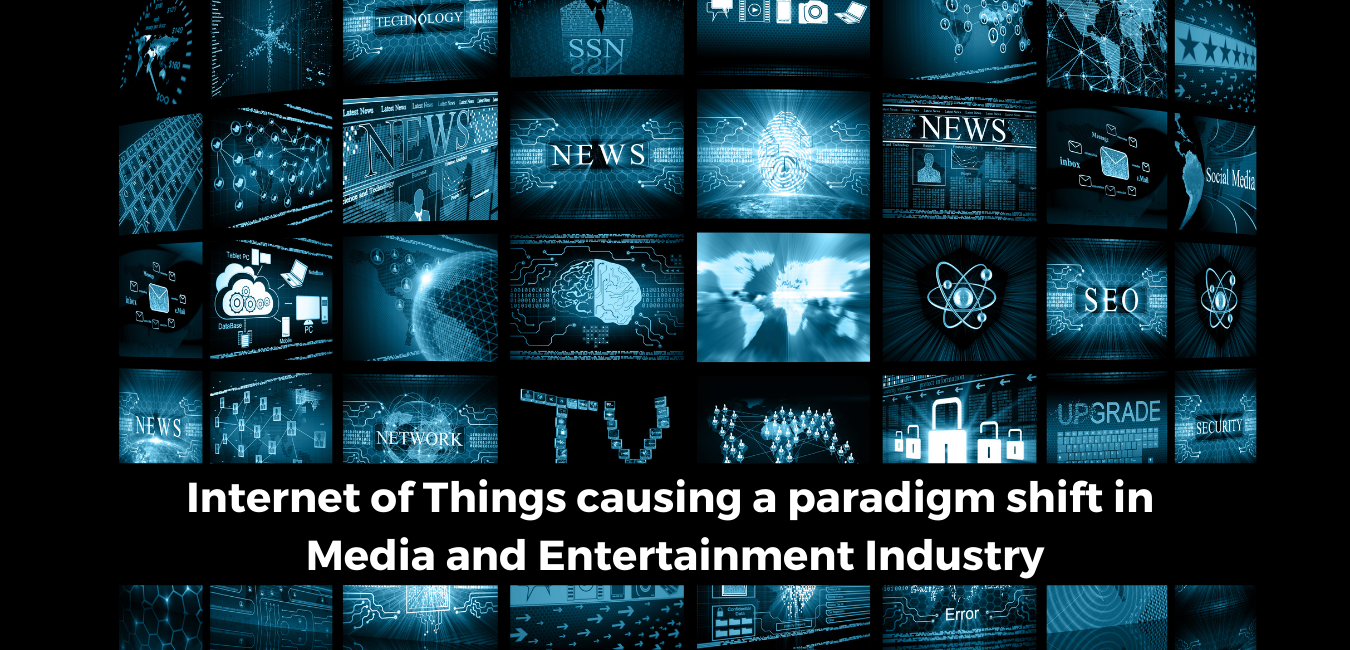 The pandemic brought about a lot of changes worldwide. Every industry had to disrupt to stay ahead of the curve practically. The media and entertainment industry is also going through a transition. After all, technology drives the media and entertainment industry. The cutting-edge effects that you see nowadays, like streaming media, virtual reality gaming, and new delivery systems, result from these technological modifications.
You have a lot of trending technologies like Big Data, Cloud Computing, AI/VR/ML, and IoT that are creating a transformation. If you believe the reports, the number of connected devices will rise to around 40 billion by 2024. You will find many applications already becoming an inherent part of the industry. A study revealed that more than 70% of large global companies already use IoT solutions to track their customers, products, and premises.
It won't be wrong to say that the IoT will continue to grow in the media and entertainment industry. But how is it causing a paradigm shift? Let's find out!
IoT causing a shift in the media and entertainment sector
The pandemic shifted the momentum of this industry. Even the remaining analog options like music concerts and theater move into the digital domain. While 2022 will be the "new normal," the industry leaders will want to use technological modifications to drive innovation in this field. The trend of IoT will change the industry towards more beneficial options.
There will be a myriad of growth opportunities that will change the future of this industry. Want to know more about the use of IoT in media and entertainment? Keep reading, and you will find out!
IoT's role in media and entertainment
With so much data available now, the industry can make informed decisions. It could include information about age, gender, location, and parallel activities. Thus, allowing companies to create more detailed customer profiles. Thus, enabling them to create targeted ads and personalized content to ensure a better customer experience.
IoT has a role in bridging the physical and digital worlds. Thus, helping asset management through different layers.
Data acquisition:

The use of sensors can help detect different parameters like humidity, acceleration, speed, and GPS. Smart devices can respond to the sensor's input and use the same for smart TVs and other mediums like smartphones.
Data consolidation:

The gateways will store the data collected before and transfer it to cloud platforms. And allow you to communicate with multiple protocols around smartphones, Wi-Fi, and Bluetooth.
Data Hooks:

IoT platforms can connect to other platforms for further analysis, processing, and action.
Data Visibility:

It allows us to understand the content and insights in a way that will help to forecast future content needs.
But how does it create a massive opportunity in entertainment and media?
Applications of IoT in media and entertainment
There is a rapid rise in the number of connected devices. So, the industry has a huge opportunity to provide content using rich insights from the consumer's preferences. There are so many areas where IoT can significantly contribute to the industry. Here's how the industry can move to the next level using IoT.
Target Advertising: Media companies can now use the data collected through sensors and personalize ads according to the needs of the customers. Brands can leverage IoT in advertising and use the right blend of creativity and data-driven insights to drive value. By doing so, reaching the right customers will be relatively easy.
Immersive content: The ability to use IoT and connect it with different technologies creates another dimension. This means that 3D content will get even more popular. Thus, it will give an edge to the media companies to utilize digital technologies and stay ahead of the curve.
Expanding reach: Since the media companies have the data and use IoT, they can get insights, it will be easier to predict behavior. It will allow the media industry to expand in the coming years. They will be able to understand the needs of the customers, and hence they will tailor the offerings as per their preferences and needs.
Personalized content will be next level: Media and companies depend a lot on data. And IoT allows them to capitalize that data to create content in a customized format. The media companies can create personalized content, ads, and offers using those actionable insights. You can quickly go to the next level if you have access to management and content-related insights and what works.
Identifying new opportunities will become easy: Since IoT gives you so many insights, it will be easy to figure out what type of business and operating model will work for you. It will help you develop a system that will balance IoT development and management costs. Since there is no other option, adopting it in its early years will allow you to navigate the ecosystem.
With the IoT-enabled devices increasing and projected to reach around 6.3 trillion US dollars by the end of 2025, the entertainment industry needs to make it an inherent part of your ecosystem. The changing trends will benefit your company to know.
Final Thoughts: Expect an increase in efficiency with IoT
The Internet of Things is likely to increase speed, efficiency, and productivity. The seniors will free humans to do more productive tasks rather than staying up for the monotonous routine tasks. It will deliver fantastic information to build amazing offerings. Thus, you can target services more aligned to the customer's needs.
This is just a glimpse of how IoT can help the entertainment industry. It could create endless opportunities for you to improve the content and services to meet the customer's needs. So, the next step is finding out what you must use and how you should use it. Only then can you extract the maximum benefits from such emerging technologies.
Also, like any other technology, the adoption might be a bit challenging initially. However, if you take the proper steps, you can generate revenue the way you anticipate. So, how do you think it can help your company scale or grow amidst the cut-throat competition?