India's 2030 Electric Vehicle Ambition: Investment outlook and strengthening value chain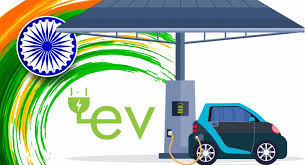 The Indian automotive industry is the fifth largest in the world and is forecasted to be the third largest by 2030. India is set to become a largest hotspot for electric mobility. Over the past few years, the national government through its policies changes has created momentum to encourage the adoption of electric vehicles for mobility.
10 Indian states and union territories (UT) have either published draft electric vehicle (EV) policies or already notified the final policies detailing fiscal, non-fiscal and other incentives to fasten the value chain of electric mobility activities. Various manufacturers have joined in by launching diversified products in various categories such as rickshaws, two-wheelers (2Ws), three-wheelers (3Ws), passenger vehicles, buses and power trains. Emerging start-ups are developing feasible products for battery technologies, enhancing infrastructure and more.
Despite these developments, the shift towards electric vehicles has been slow due to the high associated cost and low range anxiety of vehicles. Given the emerging market, the role of government is important in accelerating adoption, diffusion and deployment of electric mobility. Indian market is price-sensitive thus developing incentives for electric (clean) kilometres run versus electric vehicles purchased makes economic sense and is recommended as the guiding principle for the national strategy.
The government has set a target that 30% of all vehicles sold in India by 2030 will be electric, also has allocated funds to procure 20000 buses to strengthen public transport is encouraging for the industry. EV industry has also expecting lower GST rates and import duties. The government has recently reduced the GST on all EVs from 12% to 5% where as a fuel-run vehicle attracts a GST of 28%.
By making the shift towards electric vehicles (EVs), India stands to benefit in many ways as it has a relative abundance of renewable energy resources and availability of skilled manpower in the technology and manufacturing sectors.
According to study by CEEW Centre for Energy Finance (CEEW-CEF), the EV market in India will be a US$ 206 billion opportunity by 2030 if India maintains its current progress to meet its ambitious target. This would require a collective investment of over US$ 180 billion in vehicle production and charging infrastructure.
Another report by India Energy Storage Alliance (IESA) forecasts that the Indian EV market will grow at a CAGR of 36 percent till 2026. The EV battery market in India is also projected to grow at a CAGR of 30 percent during the same period.
Responding to this opportunity in EV market, leading players like OLA Electric Mobility Pvt, Ather Energy, and Mahindra Electrics are rapidly improving their market presence. Certain states like Karnataka and Tamil Nadu are coming up with innovative and timely investor-friendly policies along with building necessary infrastructure.
Recently, the American electric company Tesla Inc. entered Indian market with its subsidiary, Tesla India Motors and Energy Pvt Ltd, in Bengaluru.
Ola Electric, the subsidiary of the unicorn Indian ride-hailing start-up, also announced that it would be setting up the world's largest electric scooter plant in Hosur which is situated near Bengaluru, India at a cost of US$ 330 million, and aiming to produce 2 million units of EV's every year.
The charging infrastructure in India is showing growth as, states like Andhra Pradesh, Uttar Pradesh, Bihar, and Telangana are formulating plans for the deployment of public charging infrastructure to increase uptake of electric vehicles in the country.
Karnataka was the first Indian state to introduce a detailed EV policy and has emerged as leading state in EV businesses in India, both in EV and EV ancillary manufacturing as well as R&D segments. Tamil Nadu is showing promising growth, due to its supply ecosystem, larger land parcel, proximity to ports.
With recent growth in EV industry, there is still a long way to realize the government's ambitious 2030 target. The COVID-19 pandemic slowed the EV industry's current progress and also dampened its overall market demand. On positive side in FY 2020, EV sales for two-wheelers in India showed a net increase by 21 percent. For EV buses, the sales increase was over 50 percent.
Certain Challenges that EV Market Faces are –
Insufficient charging infrastructure for EV: In 2019, there were only 650 charging stations in India. The lack of sufficient charging infrastructure is one of the primary reasons for low EV demand.

High costs: Along with low range anxiety for EV (kms/charge), another major concern among the market is the current high price of EVs. As compared to lower-end (internal combustion engine) ICE cars, electric cars in the same segment are more expensive. This is mainly because of the higher cost of technology used in the EVs, which constitutes a major portion of the total cost of vehicle thus leaving less scope for other additional features which are available in premium cars. It is expected in Indian market that with increased R&D and market competitiveness, the price sensitivity factor will be rationalised which is a primary driving factor that influences purchase, especially in the lower-end car segment.

Limited options are available for EV in India as the market is still in growth stage. With timely increase in investment the sector will become more competitive which will further help in creating increased demand.

EV has lower mileage as compared to traditional internal combustion engine (ICE's) based vehicles, the industry is still in growth stage and hence there is immense scope for R&D. As of now EVs in India are not cost competitive to an average customer and ICE vehicles prove to be more cost effective.

The Electric battery dependence of India is highly based on imports. Thus, the associated high import costs, leads to increase in price of end product.
In conclusion, Consumers would shell out about INR 14,42,400 crore (US$ 206 billion) cumulatively until FY30 if India were to meet its target, the report added. the 2030 vision, as identified by government think-tank NITI Aayog, set an ambition of 70% of all commercial cars, 30% of private cars, 40% of buses, and 80% of two-wheeler (2W) and three-wheeler (3W) sales to be electric by 2030. In addition to the base case (FY30 target), the study models three transition scenarios. In the high adoption scenario, EVs are estimated to account for 43% of the total new vehicle sales between FY21 and FY30. The figure drops to 23% in the low adoption scenario.