Improve Patient Engagement by Humanizing Technology in This Virtual Health Care Era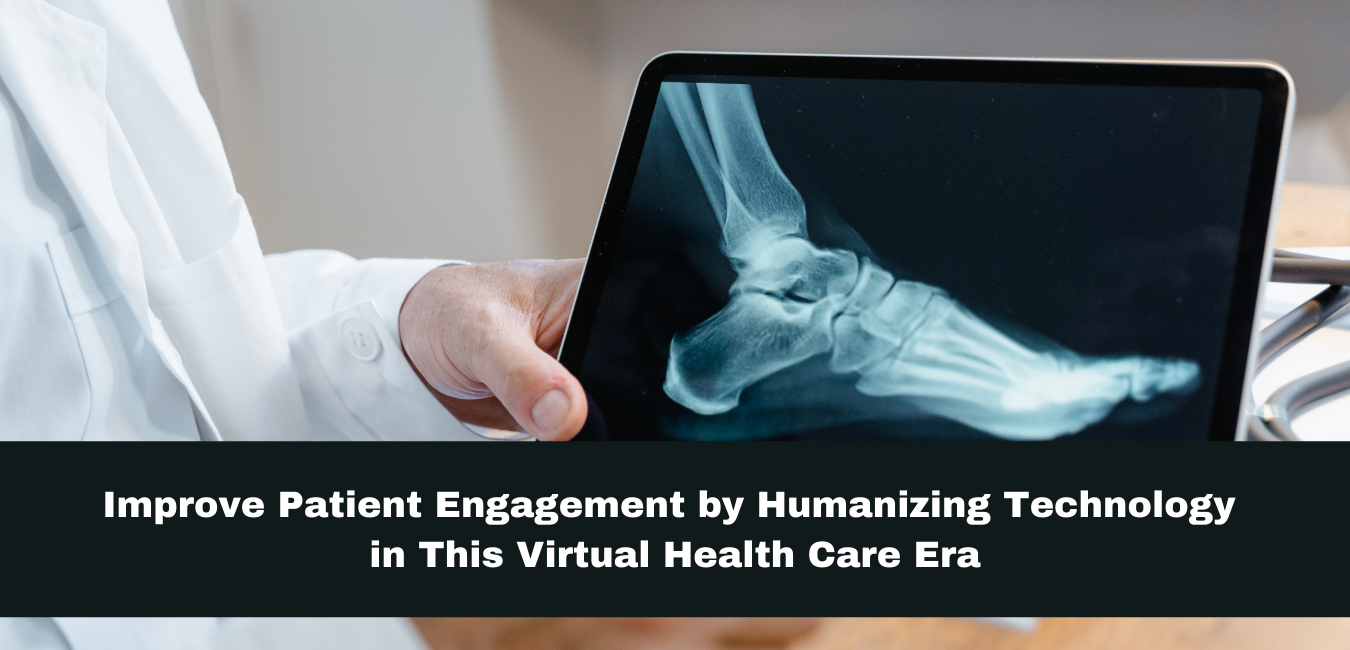 Covid-19 triggered a massive acceleration in the use of virtual health. Surprisingly it was just 11% before the pandemic hit the world in the US alone. And now it skyrocketed to 46% within no time. Providers are scaling offerings, and the number is increasing around 50 to 150 times than what they did before.
It's no more a surprise that virtual health enables continuous and connected care. But more than that, it allows the providers to give their patients access to personalize, accelerate, and augment care offerings. But let's not forget that virtual health isn't just about video visits.
It is helping the healthcare organizations to provide in-person care depending on the resource availability. The idea is to increase:
Access to critical health services

Clinical outcomes

Customer engagement

Care coordination

Reduce costs

Overall efficiency
But if you think only the care services can help you garner attention around virtual health care, you are highly mistaken. Then what is it all about? Let's find out!
Virtual Healthcare is More Than Just Video Calls/ Booking Appointments
"Let's go digital" is a buzzword in the healthcare industry now. But no one is not asking the right questions. From our viewpoint, here is the question that you must be talking about:
How to maximize engagement for every user?
And if you want this, you must work towards humanizing technology. In other words, it should be about creating meaningful connections and experiences for users. So, you must work towards humanizing your websites, mobile applications, and chatbots.
You must think about this situation. For instance, if you consider chatbots. When it comes to understanding human needs, it is more than just sharing knowledge. They need to anticipate real questions and concerns that they won't need to talk to human agents.
Now let's talk about building life-centric virtual health programs. But what should you do about it? Let's find out more!
Building humanized health care in this virtual era
When planning and building a humanized approach, healthcare organizations must think about "strategy first and technology later. "Here are some of the questions you must ask before taking the "next step" and scaling it further.
What type of problem do you want to solve?

What is your objective?

Which areas do you need to work on for virtual health?

What kind of technologies will help you achieve your goals?

What type of KPIs will you use to evaluate your success?

Are there any potential risks involved?
Once you are through with these preliminary questions, let's move on to the actual part of building humanized virtual health care.
Human element through integration
You must consider all the human elements at every step of the care journey. For instance, it could be their medical "front door." So, you must make sure to greet the patients by a live person right from the beginning. This will help build trust and build a strong rapport. Thus, projecting you as a transparent organization.
For instance, TELUS Healthcare uses advanced technology, and the warmth of human interaction uses a combination of human connection and advanced virtual care. While the working knowledge of technology is essential, one needs to use non-verbal communication to express emotions like optimizing eye contact, facial expressions, and more.
Designing for interactions
Telemedicine has become an industry change, especially after the pandemic. It is helping build human relationships between practitioners and patients separated by vast distances. However, with a sizable workforce, one needs to develop facilities to avoid relentless rows. This is why grouping is essential to humanize large floorplates.
However, the focus should be the key here. One must consider the on-camera appearances and lighting when seeing patients online.
Patients well-being must be a priority
The providers must interconnect different features in a single platform to provide a comprehensive healthcare strategy. This will allow them to connect with the patients even when they aren't meeting them face-to-face.
Revamp the space to align with the future
The ever changing technology is making the providers integrate the latest technology to reach the masses. Adjustable workstations will enable the providers to give their patients access to the best care services with additional flexibility.
Healthcare emergencies often create an issue to increase readiness and reliability. So, you must have better backups in terms of electricity. And besides that, you must consider all the factors that will help you scale this technology.
Virtual Health in Action
Intermountain Healthcare's Connect Care provides a service of specialized care through Utah. Using a video chat portal, this service connects a provider with a patient looking for urgent primary care like flu or rash. They provide connected care that involves diagnosing, devising a treatment plan, and ordering prescriptions in the same portal.
Another example is Stanford Health, where the physician sees the patients after they fill a questionnaire about their symptoms via e-visits. They guarantee a response within four hours. This is giving the patients access to connected care right from their homes.
Never forget about the engagement economy
We live in an economy where if you aren't engaging with relevant and tailored experiences, conveniences, clicks, and more enhances meaningful conversations. It has to be personalized care at all digital touchpoints, whether a clinic visit, a paid online service, and more. And it has to be from every point, whether they are clinicians and patients.
Final Takeaways: Extract The Best Value With Humanized Health Systems
You must look forward to making meaningful connections digitally to create an experience across multiple technologies. This is called digital unification. You must achieve the humanized approach by opting for these principles.
Don't implement new technologies without defining a path to value. Instead, you must describe the user experience and create a system to deliver the experience.

Start with a small system and scale to avoid any challenges that innovations also bring along with them.
Create a well-defined iterative path to value. Innovation isn't starting with the perfect idea right from the start.
All in all, it will help you improve patient engagement by humanizing technology in this virtual health care era.