Impact of Digital Transformation on Customer Experience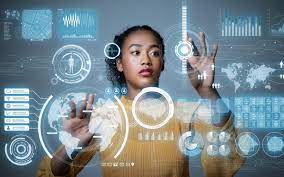 Digital transformation is a new reality that is increasingly being ingrained in enterprises. Companies are gradually adopting the ongoing transformation and seeing results. In this case, though, the customer is driving the transformation rather than the companies.
Customers nowadays demand to view quality information on a specific criterion at all times, regardless of the platform they choose, the region they are in, or the time they browse. As a result, organisations' strategy-making must be guided by the journey of their customers. Firms are required to use the latest and best-in-class technologies in order to provide an unrivalled experience for potential customers.
Customer expectations and wants are shifting as a result of the best-in-class firms' digital customer experiences. Amazon, for example, has become a leading example of digital consumer experience. Amazon has grown into a global corporation, focusing on long-term growth by emphasising customer service and harnessing technology. Companies like Uber, Starbucks, and Zappos, for example, put their customers at the centre of their operations. Companies are preoccupied with providing the greatest possible experience for their customers.
What is digital transformation?
The use of digital technology to advance from the traditional manner of conducting certain jobs to the digital world is referred to as digital transformation. This evolution has resulted in significant changes in how businesses function around the world, thereby increasing the user experience. In a word, it makes it easier for businesses, staff, and customers to do their jobs. With the digital revolution in place, most industries, businesses, and organisations throughout the world have begun to adopt various digital technologies based on their line of business.
In today's environment, creativity and digital talent must collaborate in order for digital transformation to be active and successful. This is to ensure that there are more efficient and reliable gadgets available to handle people's problems without requiring a large amount of labour. Through the use of Artificial Intelligence (AI) such as robots, the digital transformation is taking over most of the jobs that people used to do manually. This digital transition is already evident at some restaurants and airports throughout the world, where clients are served by robots and other digital tools. The digital shift may also be seen in the healthcare industry, where sophisticated devices are programmed to diagnose you. As a result, digital transformation should be carried out in a creative and effective manner to ensure that there are no loopholes or harmful side consequences for humans.
Why is Digital Transformation Important For Our Lives?
People benefit greatly from digital transformation in today's society, both in business and in their daily lives. It's not a good idea to go before digital technology because you'll miss out on a lot. The following are some of the benefits of incorporating digital technology into your daily routine.
Digital transformation reduces the amount of time required for processing, lowering production costs.

It allows for company mobility and remote control of your activities, resulting in decentralised production.

As a result of digital transformation, new opportunities for a business are created, resulting in increased revenue streams. Companies can manufacture new products and services as a result of this because they can readily reach the customer's location.

Digital technology boosts the speed with which companies respond to market demand changes.

Productivity and operational tasks are made more efficient and excellent with digital instruments.
The customer in today's world is no longer reliant on a single method of purchasing and receiving feedback from the supplier, thanks to digital transformation. Technology has had a significant impact on how buyers acquire items and, more importantly, how sellers fulfil what is expected of them. Those who have embraced digital technology, on the other hand, have a significant competitive edge and are acquiring more customers. Most clients may now shop and provide comments on their mobile phones, as well as inquire about customer service via social media, thanks to the digital transition.
How to Begin a Digital Transformation
Organizations may use digital transformation to better understand today's buyer, engage with them, and meet their expectations through a multi-channel customer experience.
Define your plan prior to implementing digital transformation
Due to continuously evolving technologies and advancements, the corporate world moves at a breakneck pace. Every year, new and emerging technology upset even the most well-established businesses.
Uber revolutionised the taxi industry in 2009 by allowing users to hail a ride using a mobile app. Amazon Go is the latest iteration of Jeff Bezos' burgeoning e-commerce empire, delivering a chain of convenience stores in the United States with automated, cashier-free self-checkout stations.
Companies require a strategy that not only identifies which technologies must be implemented, but also provides protection against digital disruption. That is why, before harnessing the promise of digital transformation, you must first understand your fundamental systems and processes in order to find opportunities.
Rethink the consumer experience
Now that customers have more power over how businesses deliver experiences, it's time to create new ones that match their needs.
Because every interaction with a customer has an impact on their overall image of a business, focusing on customer relationships is a smart choice. Invest your time and resources in technology that improves business interactions if you want to improve your clients' overall experience.
Create an IT environment that is nimble and adaptive
In today's business world, having the correct technology to fuel digital strategy is critical. However, did you know that 45 percent of executives say their organisations lack the essential technology to implement a digital transformation strategy? Fortunately, businesses understand the importance of establishing agile systems, with 86% believing that cloud technology is vital to digital transformation.
The cloud enables businesses to be more agile, dynamic, and adaptable, allowing you to test new ideas that are both cost-effective and low-risk, and allowing you to leverage technology to satisfy client demands more quickly.
Make the consumer experience more personalised
Buyers today want businesses to treat them as distinct individuals who are aware of their particular preferences and purchasing history. You can't treat your clients like people without CRM. It's impossible to deliver a unique experience without storing the history of how your company interacts with them. Our third and final success criteria for digital transformation is a seamless multi-channel experience, which involves sending the appropriate message to the right person at the right time.
You can evaluate and research customer-related data with a CRM system based on a customer's previous interactions with your organisation. For example, reviewing general requests, product quotations, and support inquiries can help you gain a better knowledge of your consumers. This information can then be utilised to produce highly targeted communications that are tailored to the tastes of specific clients, resulting in a more personalised experience.
Conclusion: What changes may we expect in the future?
Companies must seriously consider establishing a digital transformation strategy, if they haven't already, in today's fast-paced, always connected, and always on society. Organizations may use digital transformation to engage modern buyers and meet their expectations for a consistent customer experience regardless of channel or location.
In conclusion, digital technology is the way of the future, and every action undertaken around the world will have experienced a digital metamorphosis in no time. As a result, it's past time for you to abandon the analogue model in your corporation, company, or any other endeavour and embrace digital transformation. With digital models, you'll notice a boost in your business, as well as an influx of new customers.