How is metaverse reshaping the healthcare industry?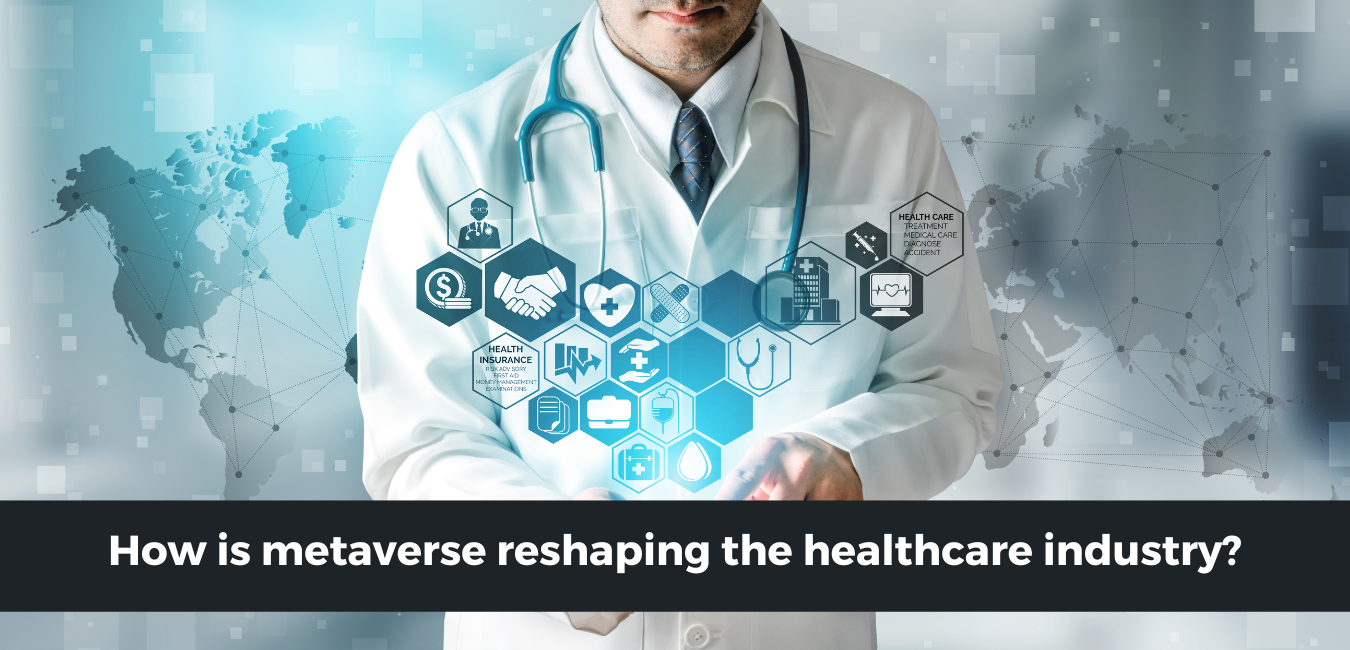 Metaverse is a new buzzword. Everyone is talking about it, from Fortune 500 companies to companies disrupting the digital space. The concept will supposedly add different dimensions to the already in-use technologies like virtual reality and immersive experiences.
It won't be a surprise that it will be a great tool in healthcare where you can use it to learn, empower, and provide better customer experiences. According to the latest research, the global metaverse in the healthcare niche will reach around US$ 71.97 billion by 2030.
Since this technology combines the goodness of different technologies like AI, Virtual Reality, AR, IoT, Web 3.0, Quantum computing, and robotics, it will transform patient and provider experiences.
Many believe this will be the successor of today's internet and will change how businesses are conducted once again. Clearly, it will transform healthcare.
Here's how the metaverse will reshape the healthcare industry:
It will act as an aid in medical training:
Medical training costs a lot and is often complex for physicians. However, integrating metaverse physicians can help practice procedures using a virtual patient over a Zoom call. The best part is that no headsets or unique apps are needed. Everything is simulated in the cloud. This could be a fantastic way to train complex cases that one could only experience on a live patient.
The same technology could be helpful for medical device companies where they can reach and train professionals. For instance, Brainlab, a Munich-based company, uses a virtual version of its radiotherapy system and allows other professionals to engage with the technology. Thus, no one has to travel to the hospital. Instead, they can explain the multi-million dollar equipment using a virtual stream instead of a slide deck or videos.
This will also help move the needle from a business perspective since there will be an increase in sales and performance.
It will help plan surgeries and monitor disease progression
You might have already heard about the usage of digital twins in the telecom or ICT industry. But it can have a role to play in healthcare as well. It can help providers capture massive amounts of patient scan data. Thus, eventually enabling to plan and monitor the progression and treatment.
You will be surprised to know that many researchers have created digital twins of real people suffering from chronic pain and are using them to find out the correct treatment plan. In fact, many believe that NASA is also exploring this option to visualize the astronauts' anatomy when they launch long-haul missions.
It could also be helpful in training doctors to recognize rare diseases or disorders and figure out their next steps.
It will be helpful as an aid for operations
Surgeons can use AR to prepare for the surgeries without working with live patients. They can see CT and NRI within the virtual patient and correct problems or tumors by making a plan that will have higher chances of success.
The value will be immense since the medicine metaverse will combine all these technologies and help medical professionals do the same in a virtual world.
It will be helpful in telepresence training and consultation
Metaverse is nothing but a combination of AI, AR, VR, blockchain, and other technologies to bring the physical and virtual world together. It would be useful in doing simple virtual video calls in a way as if you are meeting a doctor, in-person. And that too sometimes without wearing any goggles.
It will help keep up with the blockchain records
If you think everything about Metaverse must be visible, you are entirely wrong. One thing that can take advantage of the Metaverse is blockchain technology. It could be beneficial in protecting virtual people and data. And that includes medical records as well.
Given the functionality of the blockchain technology, a Metaverse can help providers with a stable and trustworthy blockchain system that will be accepted and put in place.
However, putting the plan into practice won't be accessible at all! There are so many legal considerations when it comes to the application part. Here are some considerations that the healthcare industry must keep in mind before using such novel technologies.
Data security:

Since Metaverse is all about collecting user data in avatar format, a lot of personal and sensitive data will be generated. As per the laws, you must understand and give importance to healthcare-related metaverse use cases so that you don't do anything against the law. While Metaverse will help with interoperability issues, inconsistencies across the sources and protocols might cause a hindrance.
Device regulations:

Medical devices are regulated by the FDA, and Metaverse might be classified as a medical device. For instance, smart glasses and other VR headsets might help evaluate the patient's avatar, thus becoming a part of a regulation. The Medical Extended Reality Program in the FDA's Center for Devices and Radiological Health has been formed to address challenges and issues related to novel technologies.
Healthcare laws:

There are so many laws, including HIPAA regulations, that can govern healthcare delivery in case the Metaverse grows. It's time to understand the laws so that you don't get implicated because of lesser knowledge about the challenges presented when you don't have an idea about the laws.
Final Takeaways: Metaverse is the future of healthcare only if you use it right
Metaverse is an emerging concept and everyone wants to try and use this to their advantage. The increasing use of such technologies to perform complex healthcare procedures is also making it quite an appeal for so many providers.
Other facts like precision and flexibility will increase the metaverse market in the coming years. Are you using this technology to improve the overall healthcare environment? Will you use Metaverse platforms to transform your business?
Metaverse is definitely going to be a disruptor but the transition won't be easy if you don't understand market dynamics yet. That's why market research is important to improve telemedicine experiences, or accelerating the transition into virtual reality. So, are you all set?