Hospital Level Care at Home: Virtual Care Revolutionizing Patient Care Practices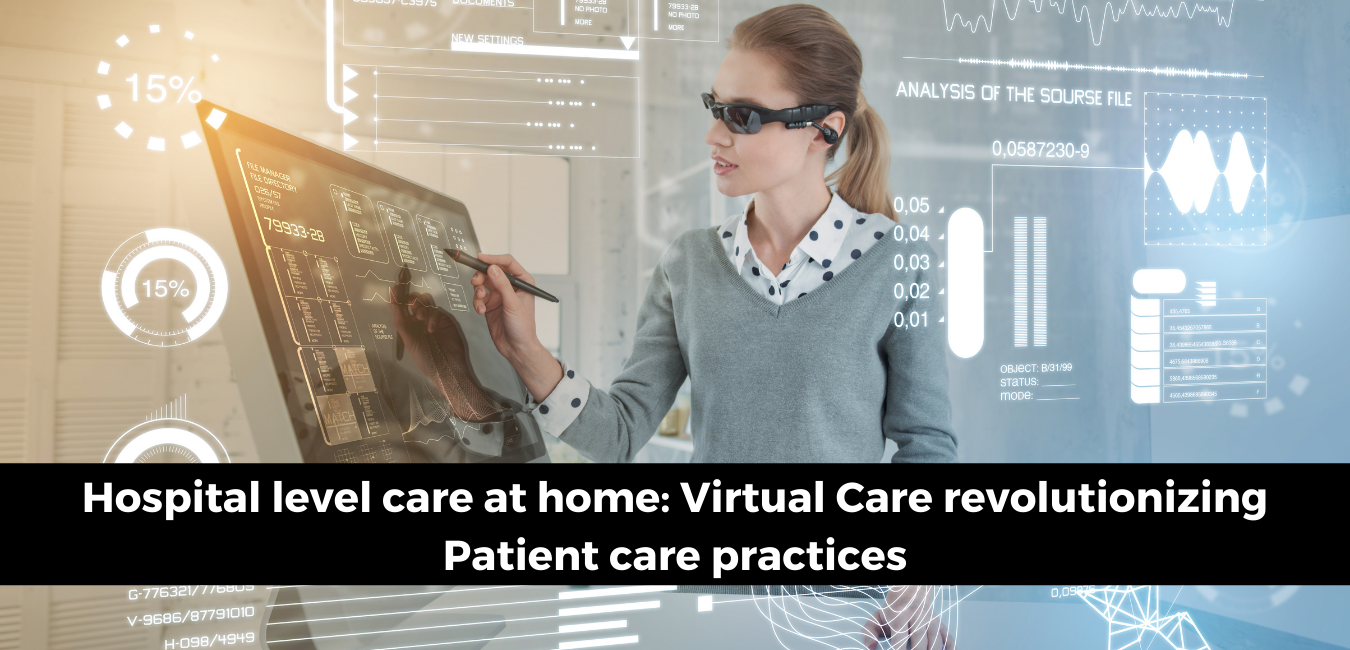 The days of traditional house calls might soon see a dead-end—no more hospital calls. No more uncomfortable hospital stays. Of course, there is no guarantee that people won't get sick. But coming to the hospital for pre-and post-care doesn't make sense to most of us. With the healthcare space heading to a monumental change, there is a possibility that certain conditions will soon be eligible for "hospital-level" care at home.
Won't that be amazing? It definitely will be. And with the pandemic pushing the industry to integrate new and innovative technologies, it won't be wrong to say that patients will soon connect with doctors outside the hospital's walls. Telehealth is becoming the preferred choice now. While the Covid-19 was the trigger, with 38 times higher utilization in 2021, it is clear that this will stay.
But why does everyone say it will revolutionize patient care practices? Let's find out now!
Virtual care will change the future of hospital care
Virtual care isn't only a point of access to patients. It is also important for the hospital staff since they have shortages, which often results in burnout. And the pandemic was quite disturbing for many. From the patient's point of view, this option will grow with more than 60% of patients likely to use virtual care tools, and the same percentage of chronic disease will be using remote patient monitoring.
And from the provider's point of view, this will improve value-based care environments with billions of dollars investment to be done to virtualize the system. But will it be possible? Let's find out what research says.
The concept is still blooming
A lot of research is going on nowadays. Researchers found that patients who accessed home programs were less likely to return to the hospital within 30 days. And the healthcare costs were also lowered by around 38%. The results might seem exciting. However, the study sample is small for now. Whether the hospitals can scale this concept still needs to be reviewed.
But imagine a setting where physicians and other hospital staff can spend half of their time at the office and the other half seeing the patients at home. This will shape the primary care setting tremendously. Everyone needs to understand that building this system is like starting a new kind of model where it will require local hospitals, health systems, and payer considerations.
Now that it's clear now, the following steps are as follows:
How will the providers select the patients for this model?
The criteria will be surrounded mainly by the age and condition of the patient. For example, older people with chronic conditions at high risk of developing complications or falls will stay at home to get care in a familiar environment.
However, if they have an acute illness requiring constant hospital care, they won't be considered hospital-at-home care solutions. Besides the medical criteria, there will be more factors like social criteria like suitability of the home environment. This takes us to the next question:
What are the components of care at home?
It is ideally divided into two forms:
1. When can a patient opt for care at home? It could be during preventive, maintenance, acute, and post-acute cure.
2. Which patient population will this care system be available for? Ideally, it will be suitable for episodic patients, patients with chronic conditions, or those with complex conditions.
But before you set up this unique virtual care model, you need to answer specific questions.
Which population should you focus on initially?
Ideally, care at home must reduce the cost of care using value-based service offerings. It could be helpful for post-acute and long-term care patients.
How will it help healthcare providers improve their patient-centric and equitable care using this model?
Home-based services like well programs in-home meal services will help the providers to address non-clinical determinants of health. Many believe that it might improve health equity and care outcomes. However, the adoption of virtual care is a bit lagging in rural residents. Also, with the lack of broadband at home, this care model won't be much helpful.
Can this strategy align with a broader perspective and goals?
Healthcare providers will have to think about integrating this strategy to be aligned with the overall enterprise strategy. You need to assess the offer and consider a path where your customers get the best services.
Now let's move on to the…
The benefits of the hospital at home care strategy
The patient care at home results in better outcomes and a long-standing, trusting relationship. Ideally, the providers can help them learn how to take care of themselves better. A health practitioner might spot tripping hazards and suggest eating better.
The pandemic also drives healthcare providers to opt for options that can keep people safe at home. And virtual care is the best way to allow acute care at home without compromising on the needs of the patients.
It is really about working through different options according to the audience you wish to serve. Only then the benefits will be much more clear.
Final thoughts: Looking forward to an era where patients find comfort and care at the same time
Technologies are advancing. And we are already looking at the upsides of using these innovations in our day-to-day lives. However, will it be helpful for a home based care model, no one knows yet. Having said that, remote monitoring devices are growing multifolds. It allows providers to track a patient's heart rate, weight changes, and activity levels. This could also be helpful if the patients live far from the doctor
The pandemic definitely pushed such concepts. And the market demand is increasing too. But the point of consideration is that "are we ready yet?" However, one can save billions of dollars every year using this strategy. So, it isn't that bad? Do you agree? If yes, then are you adopting this option for your patients? If you haven't, would you like some data around your target population? Being the early adopters will give you a chance to grow in your market and niche.