E-SIM Technology - How is it disrupting the telecom industry?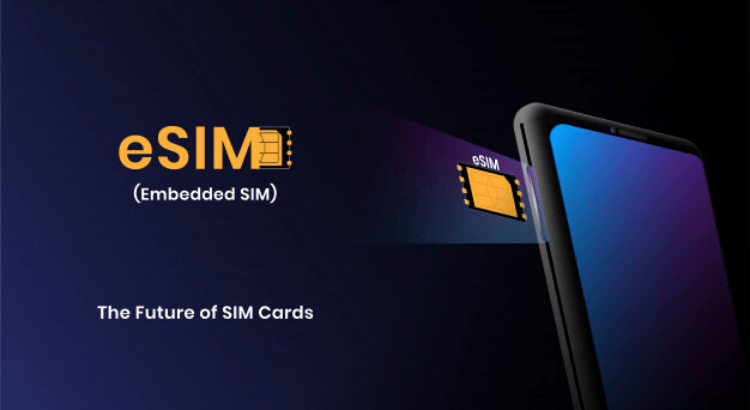 Global eSIM Market to Reach $1.8 Billion by 2026.
Since its launch back in 2016, the eSIM technology is only rising in popularity. In fact, amidst the pandemic, the eSIM market skyrocketed tremendously. With a current share of 24.6%, it will grow at a CAGR of 28% in the coming years.
The graph is impressive since it was created back in 1991. It has shrunk from credit card size to Nano-SIM, a popular way of using a SIM even today. However, with technological advancements moving faster than light, it will further shrink and somehow vanish altogether. That's what gave birth to eSIM. In layman terms, the physical card will be replaced entirely by a virtual card, eSIM. This is a module built right into the mobile device.
While this might sound like a tiny change, it can completely revolutionize the telecom value chain. Google Pixel 2 became the first smartphone to sport this technology. And now this technology is being used by Apple Watch Series 3. You can expect other industries to follow this trend soon.
At the same time, it is natural that there will be some resistance from the telecom industry and SIM manufacturers. Still, this technology will soon become a reality since its opening doors to new business models. Also, it's giving opportunities to mobile network operators and other industries.
In this article, let's decode this technology and help you understand more about this exciting innovation.
The technology Behind eSIM
As we mentioned before, eSIM saw its presence back in 2016 globally. It is what it sounds like:
It is an electronic, embedded SIM. It is built right on a customer's phone. You will find a small chip in your phone which can be used to authenticate a customer's identity with their carrier. Like any other technology, you will have many questions about this technology as well.
What if you want to change the carrier to keep your coverage?

Will the built-in SIM require customers to switch phones?
Luckily, the best part of eSIM is that you can switch carriers quite easily. You don't have to wait around for the new SIM to arrive. Also, eSIM supports multiple accounts, which, again, you can switch quite easily.
You have to work around a few new settings and manage different accounts. The report suggests that this technology will grow to nearly $980 million by 2023. If studies are to be believed, eSIM will replace physical SIMs soon.
But is it beneficial for stakeholders? Read on to learn more!
The adoption of eSIM will bring several benefits to stakeholders
The telecom industry is growing and expanding with the adoption of several technologies. Clearly, these stakeholders would want to know about the benefits of adopting this technology. For instance, IoT-enabled product manufacturers would like to know their ability to create something unique in their vertical. Honestly, eSIM technology will make manufacturing and creating easy equipment connectivity.
Further, by adopting eSIM technology, mobile network operators can also benefit from this technology. They could offer convergent offers like smart cars and smartwatches in the same contract. Also, consumers will benefit from this technology since they don't have to carry several SIMs. SIm vendors won't lose their recognition as well. This is because managing eSIM generation services will be under the discretion of SIM vendors.
Let's talk about its impact on different channels in detail.
Marketing and Sales:

It will be quite easy to engage with new clients by making them sign up using the barcode and activating the service immediately. Hence, eliminating the need to go to a shop and get a new SIM card. The ease of switching to other operators will give customers more freedom and allow you to create more contractual propositions.
Logistics:

A lot of services will need a redesign, and it could impact logistics processes. For instance, it will require some secure communication processes for pre-PIN delivery.
Customer loyalty:

Since it will ease customers to switch operators and offers, this might impact network switching. The prepaid system will see a strong churn rate. But it also means that customers will focus more on offers, impeccable CX, and call quality. They will stick to you if you can satisfy your customers, irrespective of the SIM used.
Now that we have talked about the impact of eSIM technology let's understand the advantages and disadvantages of this technology.
Advantages of eSIM technology
Switching from one phone network to another will be a lot easier since no one has to go out to shop. Plus, customers don't have to wait for the SIM to arrive anymore.
Having more than one network will also be easy since it will store more than one network. You can quickly switch between two networks easily.
It will take less room on the phone than a physical SIM. It is the best news for travelers since they have to switch to the local network to avoid roaming charges.
Disadvantages of eSIM technology
If you break your phone with a physical SIM, you can quickly shift your SIM to another phone, which might not be possible with an eSIM.
You won't be able to transfer data from one phone to another unless it is stored in a cloud-like contact, messages, or more.
The regulatory intervention
The push towards this technology will largely depend on adopting technologies like 5G, IoT, Big Data, and others. Hence, there needs to be some regulatory intervention to run this new ecosystem in tandem with global practices.
Final Takeaways: The Exciting Road Ahead
It's evident that eSIM technology is more like a boon than a bane for this industry. However, many questions and queries need to be solved before it becomes a global phenomenon. The management of customer identity will be something that needs to be sorted first.
Once that happens, it will create a major disruption and drive innovation in various markets. If you are an early adopter of this technology, you will definitely be one step ahead of your competition. So, are you all set?