Consumer Behavior is Changing: How Telcos Can Stay Afloat Amidst the Shift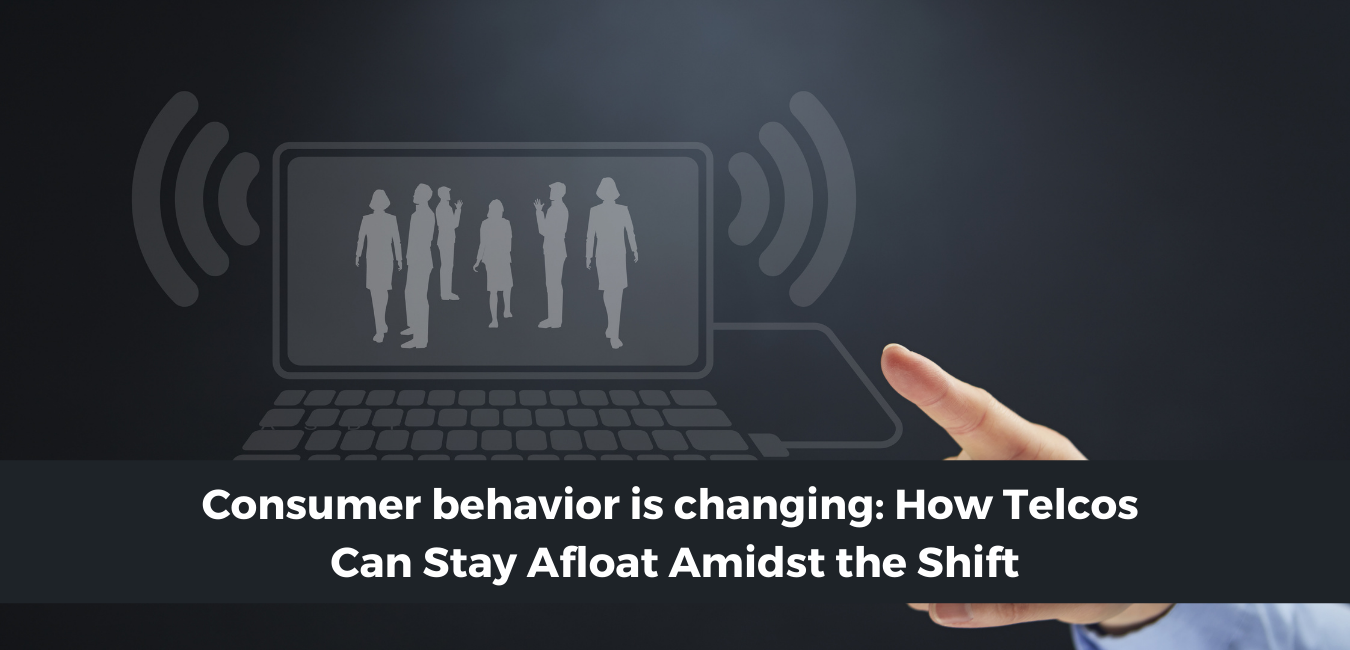 With work from home and remote solutions becoming a priority amidst the pandemic, the demand for broadband and value-added services skyrocketed. This disaster has an opportunity for the telcos to seek growth. Undoubtedly, they couldn't rely on the traditional growth strategies, such as the triple play proposition.
The need to find new strategies is the only way to drive sustained growth and stay relevant in your space. Many studies suggest that consumers' connectivity needs to change because of the crisis. Only 48% of customers feel that connectivity services now meet the needs of their remote work and online education. Further, flexibility is also an essential factor propelling the telecoms sector to redefine its business operations.
So, how can Telcos stay afloat amidst the shift? Before that, let's talk about changing consumer behavior in the "new normal."
Let's begin!
Changing consumer expectations trends amidst the pandemic
We are a part of a digitally charged lifestyle. Everyone is becoming more digital or tech-savvy. There is a shift towards online and self-service models. There is a technical maturity in today's consumer base. The pandemic is a significant driver in pushing consumers towards adopting digital means and becoming digitally native.
As per a renowned company, the number of internet users globally increased from 51% to 66%. There was an increase in data volumes as well, from 1.5 GB to 9.7GB. Clearly, consumers have higher expectations from telcos now.
Consumers are becoming pickier about what services they want while becoming demanding about performance-oriented services. For instance, if you talk about home broadband, it isn't about having the same speed now. With increased connections per person, good Wi-Fi is a must nowadays to check their work and video streaming platforms without any drop.
Consumers are no longer patient. They want impeccable technological experiences. And with the 4g+, fiber, and 5G, consumers wish for instant downloads and seamless streaming. The demands are extending beyond the industry's core connectivity and services. Everyone is looking for value-added services now.
Digital connectivity is becoming an indispensable tool. With everyone working remotely, the need for enterprise-grade applications and connections along with networks is becoming more than just a need.
Flexibility and network speed are becoming essential to choosing an operator in the age of pandemics. Network reliability and price influence consumer choices to lock an operator for all their network-related issues. Further, the telcos ability to customize plans and activate/ deactivate services easily is one of the top priorities amongst new-age consumers now.
Now that you have an idea about the changing consumer preferences, the next step is figuring out what to do next, isn't it? Let's move on to the next section and find out what your action plan should be!
Action Insights For Telecom Industry
Start addressing the needs of in-home network issues. You must take all the proactive steps to improve coverage levels and offer solutions that help them cover all the shadow areas and dead spots. Offering Wi-Fi extenders and Voice over Wi-Fi solutions can help them replace the poor mobile signal issues. You can target residential customers along with organizations. For instance, Vodafone provides a service that allows its customers in Europe to use a Wi-Fi extender to improve the coverage.
Start offering a comprehensive suite of remote work solutions. Telecom companies need to take a holistic view of the needs and offer all the solutions related to their pain points. This will allow them to troubleshoot remote working-related issues. You could provide separate home and work-based connectivity solutions that will enable you to promote more productive employees.
Improve the availability and accessibility of customer support services. With so much reliance on network infrastructure, the probability of facing new issues like congestion could become a challenge. Further, security breaches are also becoming quite common. You need to propose solutions that will help customers address these issues quickly.
The economic impact of the pandemic was too huge. Telcos must find a solution that doesn't increase the digital divide. They need to consider solutions like upgrading network speeds and unmetered access to educational resources. And removing data limits so that customers from low-income households and the elderly could seamlessly use the services.
Bring flexibility into your operations by simplifying the rules for migrating to new plans or services. In this time of economic uncertainty, consumers must have the flexibility to adjust their spending on connectivity. There should be an expansion in the availability of short-term and no-contract plans. It will help build stronger relationships with your customers. And this will improve your customer loyalty in the long term.
There is a need to increase your online channels since they are becoming key customer touch points in recent years. More than 49% of consumers used online channels to browse plans and devices. Since digital interactions will increase in the coming years, you must improve your digital touchpoints for seamless interaction and experience.
However, there is significant room for improvement in the overall improvement. Consumers are looking for personalized recommendations and better delivery options now. If you can offer such services, you will lead the market.
Final Takeaways: Teleco must address consumer behavior changes now!
The consumer trends clearly show that you need to adapt to the new normal if you want to impact this saturated market. This is why you must improve digital channels experiences for support and sales services. This will help you engage with your customers in the best way possible. You must articulate your brand value proposition. This will help you focus on the continued delivery of vital services.
Further, you must focus on providing good quality services to build positive experiences. Continue rolling out the state-of-the-art infrastructure and reliability of services to engage more customers. Finally, ensure that you are providing affordable pricing. This will be a crucial decision-maker that will enable you to engage with more users.
In short, focus on delivering better network connectivity and quality services and value-based offerings with affordable pricing strategies, and you will navigate the new normal like a champion.