Cloud Computing has made an enormous impact on the telecom industries - How?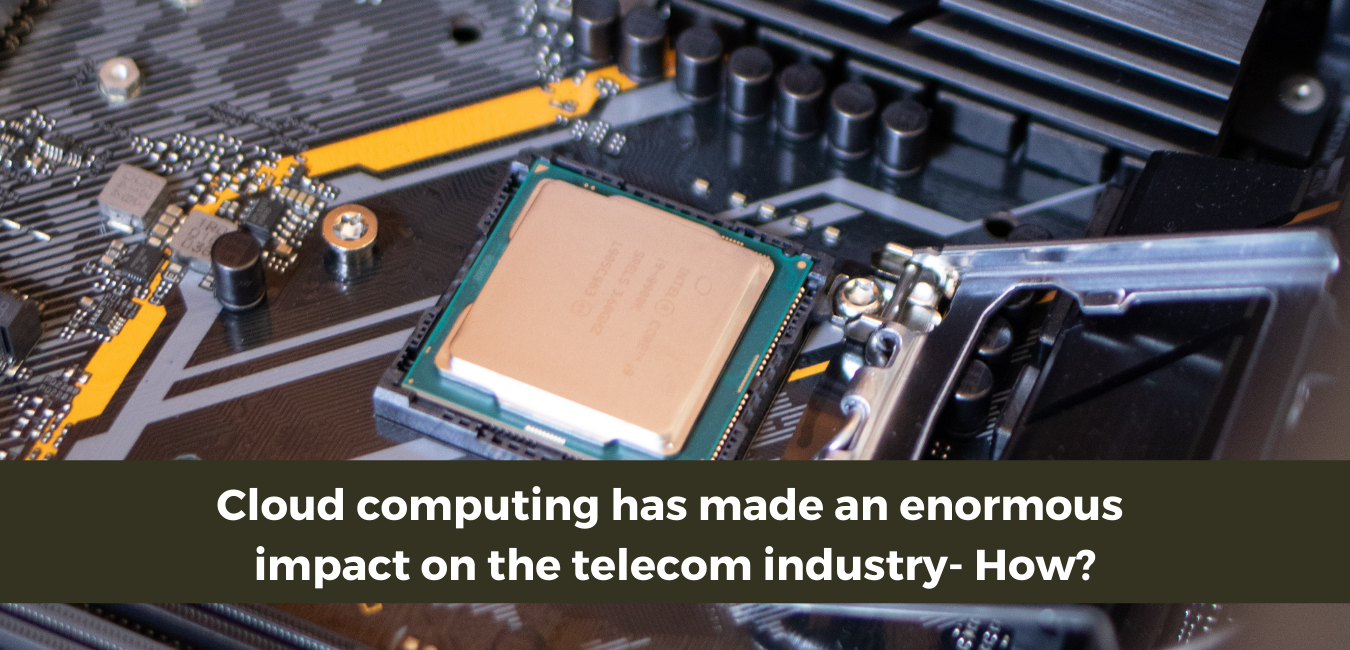 The moment anyone talks about the telecom industry, one starts imagining:
Heavy infrastructure

Several towers

Transmitters

Data centers

Cables

Wires
While that's true, however, the industry is swiftly transforming some of its physical elements into digital/ cloud-based applications. Many big telecom giants like Vodafone, Rakuten, Deutsche, and others have moved their infrastructure to the public cloud.
And if you believe the reports or surveys, this trend will evolve into 2022 and beyond. It will be among the top priorities to transform the industry.
Which of the following are likely to be priority invest areas for your company in 2021-22?
As per a survey, the telecom market will be valued at around $25 billion in 2020. And it will reach around 74.36 billion by 2026 and grow at a CAGR OF 19.9%. This cloud technology will allow telecommunications organizations to migrate their networks to the internet, thus reducing their need to have costly hardware for business. It won't be wrong to say that it is bringing remarkable changes in the overall industry. Undoubtedly, it's impacting the industry in several ways.
But how is it helping the telecom industry in the long run? Keep reading to know more!
Cloud Computing Open up New Opportunities and Revenue Streams
The role of cloud computing is swirling around delivering business value while increasing overall profitability. Cloud technology enables the telecom industry to provide an agile and competitive new environment. As per the researchers, this technology will drive the telecom industry in the following ways:
Flexibility: This is probably one of the best advantages that the cloud offers. Since cloud infrastructures are innately cost-effective, a business can flourish even more. Their pay-as-you-go model helps firms to pay only for the resources they need. Thus, reducing overall overhead expenses.
Scalability: Since cloud technology allows telecom companies to stay flexible, it enables them to upscale or downscale as per their growth opportunities and capitalizes accordingly. The same technology allows the industry to accommodate several tasks like workloads and traffic spikes.
Adaptability: The marketplaces nowadays are evolving and shifting because of the changing customer demands. And if you can respond to these changing demands, it will keep you ahead of the competition. And cloud technology helps you do just that. It enables you to revamp and update services to acquire new customers.
Reduces complexity: Nobody wants to show their customers the back-end operations. Who would like to know about the operational intricacies? So, using this technology, you can efficiently work on upgrades and maintenance works in the background. Thus, improving complexity when it comes to service offerings. Hence, reducing financial loss while providing a flawless operation.
Variability: Since cloud technology allows businesses to address user preferences in analytics, location, and personal attributes. It helps them offer user-centric services and products.
While the opportunities are pretty extensive, why will a telecom company opt for this technology? Well! Let's decode the reasons right away!
Cloud Computing and Telecom Industry: How is it beneficial?
Cloud computing is quite beneficial for the telecom industry. It is allowing them to maintain a unified communication channel using Content Delivery Network. Honestly, it is helping the industry to expand their operations. But that's not all! Let's dig a little deeper.
From a Service Provider's Perspective
It reduces operational costs since you can quickly reduce the hardware costs. Plus, service providers can provide software at lower rates.
It is highly scalable and helps providers to deliver impeccable services during peak loads or seasonal variations demands.
It improves flexibility. Thus, it allows proper resource management and allocations.
But what about the users of the telecom industry? Do they have any benefits with their company using this technology in their operations? Let's find out!
From a Service User's Perspective
It helps reduce operational costs. Hence, it increases efficiency and scalability. Thus, reducing overall service costs.
It improves data center efficiency. Thus providing better services to the customers.
It gives providers a chance to provide a pay-as-you-go payment model. Hence, they can opt for subscription-based pricing.
Allows customers to easily migrate to a new solution by transferring or migrating the data at minimal costs.
Anyone can use it as long as they have internet access. Thus, providing better service across the globe.
It provides security since the technology offers data backup and other options to secure data in multiple locations.
What's happening around?
Google announced Anthos for the telecom industry. They are even bringing edge cloud computing technology as well. Besides them, many major players are offering their own version of cloud technology. Hence, allowing the telecom industry to expand their services.
Final Takeaways: Cloud Computing is Impacting the Telecom Industry for the Better
Cloud computing is significantly impacting the telecom industry in many ways. In fact, it is quite an attractive option for government and public enterprises as well. The companies already using it are already on their way to growing their business while meeting customer demands. In fact, the cloud telecommunication sector is witnessing a lot of growth in its market.
Clearly, the changes in the technology sector are bringing a lot of remarkable changes in the global business operation. This is why many organizations are showing interest in cloud services to meet the growing demand from operations.
Further, the increasing demand for cloud services and competitive prices make enterprises choose this technology to boost their growth in their market. Also, with the risk of cyber threats increasing, the demand for disruptive services is expanding too. And cloud computing or technology helps businesses to avoid shutting down because of cripple services.
In the end, the pandemic is propelling businesses to adapt to new technologies like cloud patterns. And with the number of people currently working from home, telco industries will see a spike in voice, data, and broadband services.
This is where cloud computing will allow them to meet the evolving customer demands.Plus, you will get a chance to offer:
Unified communications and collaboration

Content delivery network
The growth is also because of the increasing demand for internet and mobile services. Have you already integrated it into your business operation? If not, why are you still waiting?