Augmented Reality and Virtual Reality in Automotive Industry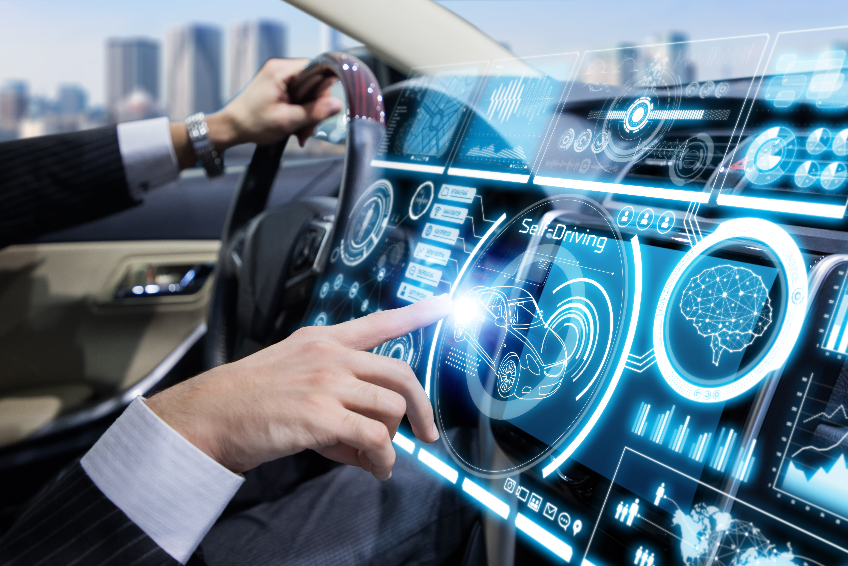 Though Tesla has dominated the news in terms of technological innovation, many mass-market brands incorporate augmented reality into the design, selling, and operation of their vehicles.
Driving is becoming simpler, safer, and more enjoyable due to augmented reality. Continue reading to learn how virtual reality is being used by automakers, retailers, and drivers in the automotive industry.
The automotive industry is investing the most in augmented reality (AR) and virtual reality (VR) technologies. According to reports, the global demand for automotive AR & VR solutions is projected to hit USD 673 billion by 2025, with a CAGR of 175.7% during the forecast period. Due to the current rate of virtual reality growth, these technologies are more accessible than ever and have much potential in the automotive industry. Let's take a look at how AR and VR are being used in this industry.
Major highlights of the Market
In their search for strategic advantage, major automobile manufacturers are rapidly introducing Augmented Reality technologies. Here's a rundown of the most creative AR use cases in the automotive industry:
Augmented reality services to improve the driving experience provide the driver with details about the climate, weather, and navigation in the windshield

AR directions and guides replace long and complicated manuals.

AR headsets automate the training process in vehicle production and maintenance.

AR led picking aids warehouse workers in being more efficient.
With intense competition and a slew of new safety and innovation features introduced with each new vehicle, the automotive industry has been an engine of human growth. Today, the sector is enthusiastically adopting virtual reality technology to design new cars, demonstrating the relentless pursuit of creativity.
The overall augmented reality automotive market will expand at a rate of 177 per cent per year, reaching $5.5 billion in 2022. We conducted comprehensive research to highlight the most creative use cases and ground breaking start-ups.
Advantages of AR and VR in the Automotive Industry
Showrooming in an Immersive Environment
The decision to open a car dealership is a required but expensive one. The total cost of furniture, hire, demo cars, inventory, and wages, particularly for smaller car manufacturers, makes it a financially unviable venture. On the other hand, VR innovations allow car dealers to reduce showroom size, cut costs, and improve customer service all at the same time.
Customers will sit in a chair that mimics an actual car seat in a VR showroom and get a real-time experience driving this particular car. Furthermore, a customer can alter the configuration or colour of the car in a matter of seconds. Audi has now built over 1,000 virtual reality showrooms and plans to expand this number.
Prototyping in the Virtual World
One of the most challenging aspects of designing a new car model is dealing with several revisions and late identification of design flaws. A new prototype is always expensive and time-consuming to develop.
All major automobile manufacturers widely use digital prototyping, but VR brings it to the next level. It allows both design and engineering teams better to simulate prototypes in terms of volume and scale, as well as see how all vehicle parts are related in greater detail. This increases the likelihood of early detection of conception errors and a greater understanding of whether there are any defective links between vehicle components. SEAT, for example, claims a 30% reduction in a prototype product.
Ford, interestingly, uses virtual reality to allow customers to view their vehicles from the viewpoint of people who are shorter or taller than normal. This enables the carmaker to comprehend various points of view and build accordingly.
Training that is augmented
In the automotive industry, too, AR is on its way to revolutionising employee preparation. AR devices make it possible for new workers to become fully involved in the manufacturing process while avoiding any risks. BMW, for example, provides AR goggles-based training sessions for engine assembly systems. Participants are motivated by visualisations and have voice control over the pace of training. This approach significantly improves participant satisfaction while also reducing the amount of time, risk, and human resources needed in the process.
Toolkits for Customer Service
Service technicians also need assistance in their work due to rapid changes in vehicle structures and their increasing complexity. AR-enabled tablet apps can assist service technicians in performing such repair tasks by providing step-by-step visual guidance.
MARTA is an AR-based framework created by Volkswagen in collaboration with Metaio (Mobile Augmented Reality Technical Assistance). All vehicle parts are labelled with text, and work directions are provided with additional details such as the equipment to be used. As opposed to standard repair guidelines, this gives service workers an advantage and makes the service quicker and more accurate.
Results Display & Real-Time Analysis
By integrating AR devices with advanced image recognition technology, computational resources, Internet of Things (IoT) devices, internal databases, and Artificial Intelligence (AI), manufacturing companies can provide a meaningful and special augmentation of their operations.
Although similar in appearance to traditional information supplementation AR instruments, such systems are much more technologically advanced. They're used to, for example, continuously track and overlay the real-time temperature of various machines during the maintenance process, capture and analyse vibration data, and detect and classify problems with a machine's activity based on its appearance, operational sound, or other factors.
In this case, AR is a potent combination of fast in-house processing power and the portability and practicality of a mobile device or an AR headset.
"North America is expected to witness robust growth during the forecast period"
The automotive market in the U.S. can be attributed to the growth of the region. The presence of major market players in this region is also augmenting the growth of the market in the region.
Europe is expected to witness lucrative growth during the forecast period as the market in this region is at its growing stage. Automotive companies like BMW, Jaguar, Volkswagen, Land Rover are investing in funding and technological developments in the region. This can be attributed to bolster the market demand.
The Asia Pacific is expected to witness robust growth during the forecast period, owing to increasing automotive industries in India, China, and Japan. The government bodies of these developing countries are focusing on the market. This is expected to fuel the market growth
Major Players ruling the market
RE'FLEKT, a Munich-based company that designs an in-house custom virtual reality and mixed reality (MR) applications, is one of the startups disrupting the automotive industry. One of their devices, Reflekt Remote, uses augmented reality to make remote customer service easier and more effective. Notably, the company is also working with Hyperloop to create Augmented Windows to address the issue of passengers in the underground capsules not being able to see outside.

WayRay – A Swiss augmented reality company is working on a dashboard-mounted system that displays augmented reality turn-by-turn navigation directions, allowing drivers to keep their eyes on the lane.

Envisics is a DAQRI spin-off that uses software-defined light technology to create augmented reality images on the windshield of a vehicle.
In the automotive industry, augmented reality is quickly gaining popularity, with companies like Mitsubishi, Hyundai, Chrysler, Porsche, and others testing and launching concepts for AR applications, computers, and innovations.
As more major market players turn to augmented reality in search of competitive advantage, it's critical to consider the reach and breadth of AR's potential in the automotive industry in order to remain ahead of the pack.
Overall Industry Development
Experts estimate that the augmented/virtual reality industries will be worth $673 billion by 2025. AR/VR has already developed itself as a business staple for new cars entering the market in the automotive industry.
Augmented reality technology is now making cars safer for everyone on the road by and the number of time drivers spend looking away from the road. Furthermore, improved testing and reporting metrics as a result of reduced human error and manual processing processes make the manufacturing process more cost-effective and reliable.
Augmented reality is rapidly gaining momentum across many sectors, with over 1 billion users predicted to reach the market this year. As a result, numerous smart accessories have been created, such as an AR-enhanced rearview mirror that can detect a blind-spot hazard and project a video feed of it in real-time in the rearview mirror. A system of mirror-integrated cameras that can compile an unobstructed panoramic image of everything behind the vehicle is another ground-breaking creation. Though backup cameras have some illumination, augmented reality eliminates more safety and security risks than any other imaging device available to date.

Conclusion: The Future of Augmented Reality and Virtual Reality in the Automotive Industry
In the near future, automotive and tech experts expect that AR technology will become much more seamless and available. The automotive industry will continue to develop integrated technologies to enhance the driving experience both on and off the road as smart wearables replace phones and portable devices.
Hands-free and voice-controlled apps and programmes would almost certainly be revamped by augmented reality. Another way augmented reality is making land travel safer is by improving the ease of use and overall quality of voice-enabled devices.
Consider a car with an integrated augmented or virtual reality system for enhanced protection, performance, data security, and entertainment if you're in the market for a new vehicle. To optimise the marketing efforts and attract a broader customer base, dealers and sellers can highlight any relevant capabilities with regard to AR, VR, and AI.
We'll be keeping an eye on this competitive and ever-expanding market when it comes to the future of augmented and virtual reality in the automotive industry.